Book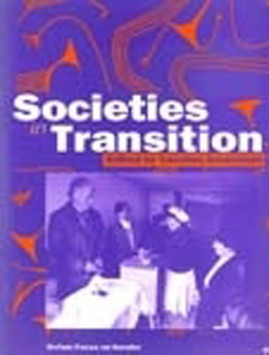 Societies in Transition
Published: 1996
Pages: 64

Paperback: 9780855983390
The Focus on Gender series makes available in book form the contents of the Oxfam journal Gender and Development. Highlighting practice as well as theory, the thematic series makes the resource available to students, researchers, practitioners and policy makers interested in particular topics. Change and upheaval are a way of life for millions of women and men throughout the world, who survive conflict, economic and political crises in addition to life-cycle transitions such as ageing. The articles in this work assert that, while transition creates hardship and trauma, it can give women an opportunity to challenge the negative aspects of relations between the sexes.
Editorial

Caroline Sweetman

Gender, change and insecurity - theoretical issues and practical concerns

Inez Smyth

Women, war and transition

Judy El-Bushra and Cecile Mukarubuga

Algerian women and political choice - a time of transition

Imane Hayef

Women's political participation in Mozambique's democratic transition

Ruth Jacobsen

Gender, culture and later life - a dilemma for contemporary feminism

Kasturi Sen

Coping with transition through organization - Techiman market, Ghana

Carolyne Dennis and Ernestina Peprah

Gendered Transitions - a review essay

Maxine Molyneux

Interview - Susan Cueva on migrant workers

Resources

Book review - Arms to fight, arms to protect: Women speak out about conflict

(eds Bennet O, Bexley J, and Warnock K)

Chris Johnson

Relevant organisations

Further reading

Audio-visual resources

Index to volume.
Caroline Sweetman
Caroline Sweetman is Editor of the international journal Gender & Development and works for Oxfam GB.