Book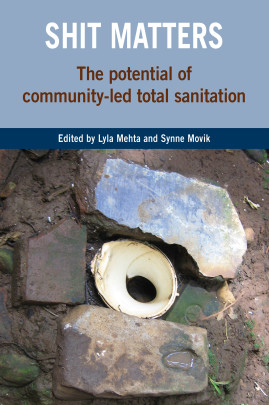 Shit Matters
The potential of community-led total sanitation
Published: 2010
Pages: 280

eBook: 9781780440347
Paperback: 9781853396922
Sanitation remains one of the biggest development challenges of our time, and a long neglected issue associated with taboos and stigma. Despite growing attention and efforts, many top-down approaches to sanitation have failed, reflecting that simply providing people with a toilet does not necessarily guarantee its use. The Community-Led Total Sanitation (CLTS) approach offers a more promising alternative, focusing on facilitating a profound change in people's behaviour through participatory techniques. By raising local people's awareness of the linkages between open defecation and disease through the release of powerful emotions such as disgust and shame, they are encouraged to analyse their own sanitation situation and take action themselves. The approach has proved immensely successful, however, like any development success story challenges still remain regarding scaling up with quality, inclusion of the poorest and sustainability.This book addresses both the potential and challenges of CLTS by drawing on research in Asia as well as experiences from Africa.
Prelims (Foreword - Kamal Kar)

1. Introduction

Lyla Mehta and Synne Movik

2. Shit Matters: Community-Led Total Sanitation and the Sanitation Challenge for the 21st Century

Lyla Mehta

BANGLADESH

3. Community-Led Total Sanitation in Bangladesh: Chronicles of a people's movement

Shafiul Azam Ahmed

4. Exploring the social dynamics of CLTS in Bangladesh: The inclusion of children, women and vulnerable people

Amina Mahbub

5. NGOs and the implementation of CLTS in Bangladesh: Selected case studies

Mick Howes, Enamul Huda and Abu Naser

6. The challenges of facilitating CLTS

Anowarul Haq and Brigitta Bode

INDIA

7. The CLTS Story in India: The Sanitation Story of the Millennium

Deepak Sanan

8. Institutional Arrangements and Social Norms Influencing Sanitation Behaviour in Rural India

A. Dyalchand, M. Khale, S. Vasudevan, and N. Kale

9. The Impact of Rural Sanitation on Water Quality and Waterborne Diseases

Manisha Khale and Ashok Dyalchand

10. Doing CLTS in a Countrywide Program Context in India: Public Good, Private Good?

Nisheeth Kumar and J.P.Shukla

INDONESIA

11. The CLTS Story in Indonesia: Empowering communities, transforming institutions, furthering decentralization

Nilanjana Mukherjee and Nina Shatifan

12. CLTS – Learning from communities in Indonesia

Owin Jamasy and Nina Shatifan

13. Institutional dimensions of scaling up in Indonesia

Edy Priyono

SYNTHESIS

14. CLTS in India and Indonesia: Institutions, Incentives and Politics

Anu Joshi

15. CLTS, Dynamics and Sustainability: Perspectives on Challenges and Pathways

Synne Movik

16. Reaching Out, Scaling Up: The Future of CLTS

Robert Chambers and Kamal Kar

Back Matter (APPENDIX: Notes on resources, conference material, networks, partnerships, etc.)
Lyla Mehta Lyla Mehta is a sociologist working on water and sanitation. She is a Research Fellow in the Environment Team at the Institute of Development Studies, University of Sussex and a Professor at the Institute of International Environment and Development, Norwegian University of Life Sciences, Aas.
Synne Movik Synne Movik is an independent consultant in the field of water natural and resources, who has been working with the Institute of Development Studies and the STEPS Centre, at the University of Sussex, UK.
Resource Management, Sustainable Development and Governance
Sanitation Challenges and Policy Options in Developing Countries: A Critical Review
Maharaj, Nuthan
Maharaj, Brij
2021
https://doi.org/10.1007/978-3-030-85839-1_24
[Citations: 0]
Toilet Talk: Eliminating Open Defecation and Improved Sanitation in Nepal
McMichael, Celia
Medical Anthropology, Vol. 37 (2018), Iss. 4 P.294
https://doi.org/10.1080/01459740.2017.1371150
[Citations: 7]
Development for Children, or Children for Development? Examining Children's Participation in School-Led Total Sanitation Programmes
Joshi, Deepa
Kooy, Michelle
van den Ouden, Vincent
Development and Change, Vol. 47 (2016), Iss. 5 P.1125
https://doi.org/10.1111/dech.12258
[Citations: 2]
Talking shit: is Community‐Led Total Sanitation a radical and revolutionary approach to sanitation?
Galvin, Mary
WIREs Water, Vol. 2 (2015), Iss. 1 P.9
https://doi.org/10.1002/wat2.1055
[Citations: 26]
The urban sanitation conundrum: what can community-managed programmes in India unravel?
Das, Priyam
Environment and Urbanization, Vol. 27 (2015), Iss. 2 P.505
https://doi.org/10.1177/0956247815586305
[Citations: 8]