Book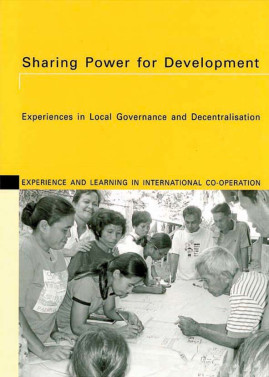 Sharing Power for Development
Experiences in Local Government and Decentralisation
Published: 2007
Pages: 56

eBook: 9781780441559
Paperback: 9781853396687
Decentralisation and good local governance are often identified as necessary precursors to effective pro-poor development work. In this publication, the authors examine case studies from the work of Swiss development organisation Helvetas and its local partners in the Philippines, Cameroon, Mali, Vietnam and Guatemala to show how context specific initiatives have driven greater decentralisation and more effective local governance. It also describes how these experiences can be built upon to influence national policy and legislative reform for decentralisation and governance.
Prelims | Introduction

1. Case study Philipines

2. Case study Cameroon

3. Case study Mali

4. Case study Vietnam

5. Case study Guatemala

6. Main issues and conclusions
Karin Fueg
Karin Fueg works for Helvetas with a focus on civil society and state institution building.