Book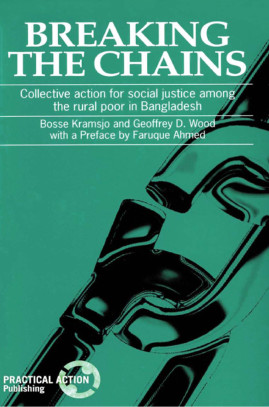 Breaking the Chains
Collective action for social justice among the rural poor in Bangladesh
Published: 1992
Pages: 112

eBook: 9781780444581
Paperback: 9781853390241
Shows how the landless poor of Bangladesh have worked to determine their own future, independent of the existing power structure. Demonstrates effective organizing by the landless, the results of their action, and thoughts on the way forward.
FOREWORD by Famque Ahmed vi

PREFACE vii

GLOSSARY viii

PART ONE: INTRODUCTION by Geoffrey D. Wood 1

PART TWO: CASE STUDIES by Bosse Kramsjo 35

Greater solidarity for greater power 37

Fights for legal control ofkhas resources 41

Khas ponds; Housing; Rice paddies; A marsh;

A deep tubewell; Vested land

Resistance to exploitation by the rich 62

Village touts; False claims for religious purposes;

A fraudulent sharecropper

Women fight for their rights 70

The life of Amena Begum from misery to dignity;

Women against divorce; An unregistered marriage;

Dignity and dowry; Literacy

Increasing wages and incomes 82

Food for work; The daily wage;

Equal pay for equal work

Income generation 91

Popular theatre for mobilization 95

Organizational strength for greater power -

the way forward 100
Bosse Kramsjo
Bosse Kramsjo has taught development studies, poverty alleviation, rural development, people's mobilization and organization, food security and the agrarian sector, micro finance, participatory methods, and the role of the development aid worker. He was also a former director of Sida Sando, Sweden.
The Effect of Cultural Background on Metaphor Interpretation
Littlemore, Jeannette
Metaphor and Symbol, Vol. 18 (2003), Iss. 4 P.273
https://doi.org/10.1207/S15327868MS1804_4
[Citations: 55]
Contradictions and Confusions in Development Work
Arvidson, Malin
Journal of South Asian Development, Vol. 3 (2008), Iss. 1 P.109
https://doi.org/10.1177/097317410700300105
[Citations: 18]
Insecurity and Welfare Regimes in Asia, Africa and Latin America
Gough, Ian
Wood, Geof
Barrientos, Armando
Bevan, Philippa
Davis, Peter
Room, Graham
2004
https://doi.org/10.1017/CBO9780511720239
[Citations: 193]
Who Trusts Government? Understanding Political Trust Among the Poor in Bangladesh
Hossain, Naomi
(2008)
https://doi.org/10.2139/ssrn.1316782
[Citations: 5]
"This great evil": anticipating political obstacles to development
Gillespie, Piers
Girgis, Mona
Mayer, Peter
Public Administration and Development, Vol. 16 (1996), Iss. 5 P.431
https://doi.org/10.1002/(SICI)1099-162X(199612)16:5<431::AID-PAD893>3.0.CO;2-O
[Citations: 7]
Dowry in Bangladesh: Compromizing Women's Rights
Huda, Shahnaz
South Asia Research, Vol. 26 (2006), Iss. 3 P.249
https://doi.org/10.1177/0262728006071707
[Citations: 20]
Rethinking the Welfare Regime Approach
Davis, Peter R.
Global Social Policy, Vol. 1 (2001), Iss. 1 P.79
https://doi.org/10.1177/146801810100100105
[Citations: 22]
Prisoners and escapees: improving the institutional responsibility square in Bangladesh
Wood, Geoff
Public Administration and Development, Vol. 20 (2000), Iss. 3 P.221
https://doi.org/10.1002/1099-162X(200008)20:3<221::AID-PAD142>3.0.CO;2-8
[Citations: 46]
Economic Pathways to Women's Empowerment and Active Citizenship: What Does The Evidence From Bangladesh Tell Us?
Kabeer, Naila
The Journal of Development Studies, Vol. 53 (2017), Iss. 5 P.649
https://doi.org/10.1080/00220388.2016.1205730
[Citations: 46]
Where Information Society and Community Voice Intersect
Srinivasan, Ramesh
The Information Society, Vol. 22 (2006), Iss. 5 P.355
https://doi.org/10.1080/01972240600904324
[Citations: 23]
Civil society, international donors and poverty in Bangladesh
Davis, Peter R.
McGregor, J. Allister
Commonwealth & Comparative Politics, Vol. 38 (2000), Iss. 1 P.47
https://doi.org/10.1080/14662040008447809
[Citations: 32]
Organising and Representing the Poor in a Clientelistic Democracy: the Decline of Radical NGOs in Bangladesh
Lewis, David
The Journal of Development Studies, Vol. 53 (2017), Iss. 10 P.1545
https://doi.org/10.1080/00220388.2017.1279732
[Citations: 21]
Good Governance at the Grass-roots
Panday, Pranab Kumar
Rabbani, Md. Golam
South Asian Survey, Vol. 18 (2011), Iss. 2 P.293
https://doi.org/10.1177/0971523113513376
[Citations: 5]