Book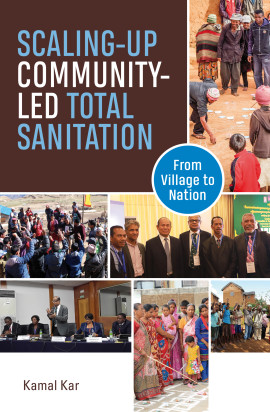 Scaling-up Community-Led Total Sanitation
From village to nation
Published: 2019
Pages: 268

eBook: 9781780449753
Paperback: 9781853399763
Hardback: 9781853399756
Scaling-up Community Led Total Sanitation starts with detailed instructions on how to facilitate CLTS in a village or cluster of villages. It then explores how to scale up and institutionalize CLTS at a regional and national level by gaining the commitment of leaders within government ministries. The book provides case studies from Madagascar to Kenya, Ghana, Ethiopia, Zambia, Timor Leste and India. It also includes a section of frequently asked questions to provide those managing CLTS programmes with answers distilled from knowledge and experience.

Essential reading for all involved with sanitation programming from field facilitators and trainers to policy makers, donors and programme managers at district, regional and national levels.
1 Introduction: The journey so far

Part One: The phases of CLTS | 2. Phase 1: Pre-triggering | 3. Phase 2: Triggering | 4. Phase 3: Post-triggering

Follow-up | 5. Phase 4: ODF and post-ODF activities: celebrating and sustaining ODF status

Part Two: Scaling up CLTS | 6. From village to nation: institutionalization and scaling up | 7. Country models

for scaling up | 8. Going beyond CLTS | 9. Urban Community Led Total Sanitation

Appendix 1: Frequently asked questions and challenging issues

Appendix 2: Research on the effectiveness of CLTS interventions
'Community-Led Total Sanitation is one of the most innovative, 'outside-the-box' policy interventions to come out of the water and sanitation sector in decades. WASH professionals everywhere need to carefully study the evidence on its effectiveness in order to decide how it can be best deployed to end open defecation.'
Dale Whittington, Professor, University of North Carolina at Chapel Hill and The Global Research Institute, University of Manchester

'The 'Handbook on Community-led Total Sanitation' by Kamal Kar with Robert Chambers, published in 2008, revolutionized sanitation programmes across the globe and has made a major contribution to ending open defecation and accelerating access to sanitation. The success of CLTS is apparent in the proliferation of open defecation free villages, and even ODF districts in some countries, but challenges remain, especially concerning scale and sustainability. Ten years on, Dr. Kar has provided a timely successor to the Handbook, setting out a bold vision of ODF nations and highlighting the importance of the institutionalization of CLTS. This will make a major contribution to the ongoing goal of eradicating open defecation once and for all.'
Dr. Peter Harvey, United Nations Children's Fund

'Achieving appropriate sanitation for all is a central global challenge, vital for human health and dignity, yet thus far elusive. CLTS offers an innovative approach and this remarkable book charts the latest stages in its evolution to one that can work at scale, helping achieve the UN Global Goals. Lively, detailed analysis and examples show us the people, communities and practices at the heart of one of the 21st Century's most positive development stories, in which technical, social, cultural and power issues are all deeply embroiled. Fascinating and rewarding reading.'
Professor Melissa Leach, Director, Institute of Development Studies (IDS)

'Based on experience from mainly rural areas of the developing world, Scaling-Up Community Led Total Sanitation provides a methodical description of the various phases of CLTS from pre-triggering of awareness to post-ODF follow-up. The use of CLTS methods to develop better understanding about sanitation and hygiene and to reduce open defecation has had significant impact in many countries thus far. The book also charts a plausible route to help achieve SDG 6.2 by 2030 in a quickly urbanising world that needs to change how it thinks about sanitation and hygiene. There are 4.5 billion people living in communities lacking safe sanitation systems today. In a way all humans could benefit from this sort of exposure in order to initiate a vital learning process in order to break taboos and create improvements, locally and globally. Scaling up sustainable sanitation systems particularly in urban and peri-urban areas requires an even broader selection of innovative methodologies going beyond CLTS, integrating sanitation into community development strategies and nation building. In this book, Kamal Kar provides suggested pathways for this transformation to occur.'
Arno Rosemarin, Senior Research Fellow, Stockholm Environment Institute

'I believe that CLTS has been a contributing factor to our achievement in sanitation improvement. Dr. Kar introduced the approach in 2003 and we really appreciate Dr. Kamal Kar's attention to the country and his constant encouragement to fast track sanitation in Cambodia. We have now stepped up our targets from ODF village and commune towards ODF districts and provinces and we will continue our efforts to eliminate open defecation in rural Cambodia. Scaling-Up Community Led Total Sanitation has comprehensive examples from all over the world and will help all the countries and organizations to scale up and institutionalize CLTS to hasten access to sanitation towards SDG 6.2.'
Ouk Rabun, Minister of Rural Development, Royal Government of Cambodia

Kamal Kar
Kamal Kar pioneered the CLTS approach in Bangladesh in 1999-2000; he is the Chairman of the CLTS Foundation. He is an Honorary Associate at the Institute of Development Studies (IDS), University of Sussex, UK, and Adjunct Professor/Adjunct Senior Research Fellow at the Institute of Water Policy of the LKY School of Public Policy at the National University of Singapore.
Assessing Wastewater Management in the Developing Countries of Southeast Asia: Underlining Flexibility in Appropriateness
Sotelo, Tiffany Joan
Satoh, Hiroyasu
Mino, Takashi
Journal of Water and Environment Technology, Vol. 17 (2019), Iss. 5 P.287
https://doi.org/10.2965/jwet.19-006
[Citations: 4]