Book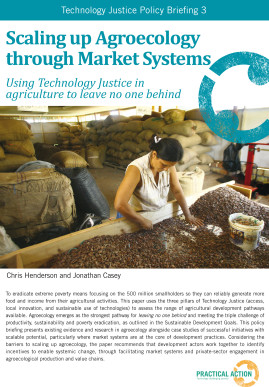 To eradicate extreme poverty means focusing on the 500 million smallholders so they can reliably generate more food and income from their agricultural activities. This paper uses the three pillars of Technology Justice (access, local innovation, and sustainable use of technologies) to assess the range of agricultural development pathways available. Agroecology emerges as the strongest pathway for leaving no one behind and meeting the triple challenge of productivity, sustainability and poverty eradication, as outlined in the Sustainable Development Goals. This policy briefing presents existing evidence and research in agroecology alongside case studies of successful initiatives with scalable potential, particularly where market systems are at the core of development practices. Considering the barriers to scaling up agroecology, the paper recommends that development actors work together to identify incentives to enable systemic change, through facilitating market systems and private-sector engagement in agroecological production and value chains.
Executive summary

Introduction

Agricultural development pathways

Recommendations to help ensure no one is left behind

References
Chris Henderson
Chris Henderson is Senior Policy and Practice Adviser with Practical Action, UK. He leads the organization's influencing and learning strategy on agriculture and food security.
Jonathan Casey
Jonathan Casey is Policy Officer with Practical Action, UK. He supports Practical Action's policy influencing work on technology and innovation through research, analysis and communications.
Technology Justice
Back Matter - Technology Justice
Action, Practical
2015
https://doi.org/10.3362/9781780446585.007
[Citations: 0]
Exploring barriers to the agroecological transition in Nicaragua: A Technological Innovation Systems Approach
Schiller, Katharina J.F.
Klerkx, Laurens
Poortvliet, P. Marijn
Godek, Wendy
Agroecology and Sustainable Food Systems, Vol. 44 (2020), Iss. 1 P.88
https://doi.org/10.1080/21683565.2019.1602097
[Citations: 14]
Bringing agroecology to scale: key drivers and emblematic cases
Mier y Terán Giménez Cacho, Mateo
Giraldo, Omar Felipe
Aldasoro, Miriam
Morales, Helda
Ferguson, Bruce G.
Rosset, Peter
Khadse, Ashlesha
Campos, Carmen
Agroecology and Sustainable Food Systems, Vol. 42 (2018), Iss. 6 P.637
https://doi.org/10.1080/21683565.2018.1443313
[Citations: 123]