Book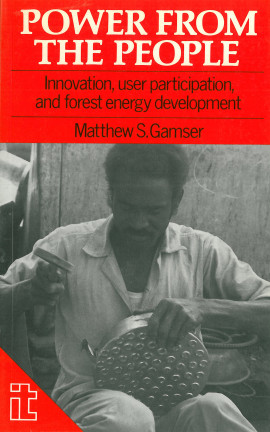 Power from the People
Innovation, user participation, and forest energy programmes
Published: 1988
Pages: 168

eBook: 9781780443010
Paperback: 9780946688944
Through the example of the analysis of forest energy technology development the author illustrates the importance of user participation in developing technologies, and discusses the management of technological change.
9781780443010.000

1

9781780443010.001

14

9781780443010.002

40

9781780443010.003

60

9781780443010.004

73

9781780443010.005

92

9781780443010.006

113

9781780443010.007

134

9781780443010.008

139
Matthew Gamser
Matthew Gamser leads IFC's advisory work in increasing access to financial services in the East Asia-Pacific region. Dr Gamser has 27 years of experience in international enterprise development, local economic development, and finance. His present work for IFC includes microfinance, SME finance, housing finance, insurance, leasing, energy efficiency finance and electronic/mobile phone banking.
Rural mechanisation: a review of processes, policies, practice and literature
Gass, G. M.
Biggs, Stephen D.
Project Appraisal, Vol. 8 (1993), Iss. 3 P.157
https://doi.org/10.1080/02688867.1993.9726905
[Citations: 7]
International Governance on Environmental Issues
National and Local Policy Implementation as a Participatory Process
Eckerberg, Katarina
1997
https://doi.org/10.1007/978-94-015-8826-3_8
[Citations: 0]
Can Business Development Services practitioners learn from theories of innovation and services marketing?
Caniëls, Marjolein C.J.
Romijn, Henny A.
de Ruijter-De Wildt, Marieke
Development in Practice, Vol. 16 (2006), Iss. 5 P.425
https://doi.org/10.1080/09614520600792366
[Citations: 6]