Book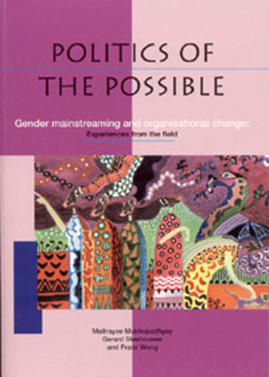 Politics of the Possible
Published: 2006
Pages: 150

Paperback: 9780855985707
What actually happens to organisations during gender and organisational change endeavours? Politics of the Possible takes an in-depth look at the experience of seven Novib partner organisations in the Middle East and South Asia who undertook the challenge of the Gender Focus Programme. It recounts their analysis of their organisations, and the routes they chose to follow. The book presents field experiences of managing the politically sensitive agenda of promoting gender equality in NGOs, and negotiating the contradictions between using Organisational Development tools and promoting gender equality. Politics of the Possible shows how organisational change for gender equality is an integral part of gender mainstreaming processes. As a decade of evidence suggests, gender mainstreaming is vulnerable to becoming technocratic and ineffective. These seven organisations, unable to separate entirely the internal change process from their external work as NGOs, experienced a spillover of gender justice concerns into their work in the field, with a variety of programme results.
Maitrayee Mukhopadhyay
Maitrayee Mukhopadhyay, Ph.D, is a social anthropologist specialized in social development with a focus on gender and development. Dr Mukhopadhyay is the Area Leader for Social Development and Gender Equity for KIT Development Policy & Practice where she is responsible for programme development with a special focus on gender, citizenship and governance and rights-based approaches in development.