Book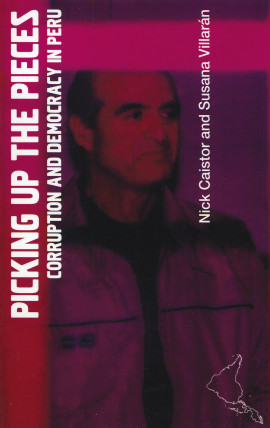 Picking up the Pieces
Corruption and Democracy in Peru
Series: Latin America Bureau Short Books
Published: 2006
Pages: 110

eBook: 9781909013377
Paperback: 9781899365753
With the sudden flight of its decade-long dictator Alberto Fujimori in 2001 and the apprehension of his eminence grise Vladimiro Montesinos, Peru has in recent years experienced one of the most dramatic turnarounds of any Latin American country. Picking Up the Pieces: Corruption and Democracy in Peru looks at how Peruvians have reconstituted democracy in their country after a decade of the most mysterious and secretive political regimes ever to rule in the region.

In the wake of the 2006 elections, which returned former president Alan Garcia to power, this work examines the role of multinationals, the judiciary, civil society and new political movements to show how Peru is reconstituting itself out of the vacuum left by flagrant corruption and authoritarianism. A concise examination and powerful indictment of corruption in Latin America as a whole, Picking Up the Pieces is also a definitive book on contemporary Peruvian politics.
Prelims - Picking Up the Pieces (Title Page, Copyright Information, Contents, Acknowledgements, Abbreviations)

1. Picking Up the Pieces
Nick Caistor is a British writer and translator who has visited Mexico regularly for more than 40 years. A former BBC Latin America analyst, he has written books on the history and culture of Mexico City, and the Meixcan poet Octavio Paz.