Book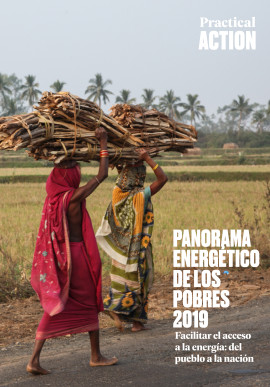 Panorama de la pobreza energética 2019
De lo local a lo nacional
Series: Poor People's Energy Outlook
Published: 2020
Pages: 72

eBook: 9781780447858
El PPEO 2019 es la culminación de cinco años de investigación, explorando qué se necesita para hacer realidad el tipo de servicios energéticos que permiten a las personas pobres en energía prosperar. El informe recopila y actualiza los mensajes y recomendaciones clave sobre la planificación (PPEO 2016), el financiamiento (PPEO 2017) y el suministro
orientados a lograr un acceso a la energía a escala y sin dejar a nadie atrás (PPEO 2018). Se basa en la investigación primaria realizada a través de consultas con comunidades en Bangladesh, Kenia y Togo, así como en el análisis de programas de acceso a la energía en América Latina, Asia Meridional y África Subsahariana, y considera cómo aumentar el acceso
a la energía de intervenciones a pequeña escala a los niveles nacional e internacional, a fin de garantizar que todas las personas se beneficien del poder que la energía tiene de transformar vidas.

Esto se debe a que, a tan solo una década hasta la fecha en que deben lograrse los objetivos mundiales de 2030, el acceso a la energía sigue siendo difícil de alcanzar. Ampliar el acceso requerirá un gran aumento y reequilibrio de la inversión, modelos empresariales innovadores, cambios en los marcos de políticas, capacidad institucional, una mayor conciencia y mejores soluciones técnicas. El PPEO 2019 explora el progreso logrado hasta la fecha en estos ámbitos y considera qué queda por hacer a fin de garantizar que en la consecución del ODS 7 verdaderamente no dejemos a nadie atrás.
1 Introducción

2 El camino hacia 2030

3 Combustibles y cocinas no contaminantes

4 Electrificación

5 Suministro centrado en las personas

6 Conclusiones y recomendaciones
«Una vez más, Practical Action muestra no tener miedo a abordar problemas complejos.»
Harriet Lamb, Directora Ejecutiva, Ashden

«Al combinar las cuestiones de planificación del acceso a la energía, financiamiento y suministro, este PPEO logra
transmitir la pertinencia de adoptar la perspectiva de la gente.»
Annemarije Kooijman, Coordinadora del Programa de Investigación, ENERGIA

«El PPEO es una contribución muy esperada a la que, hoy en día, es una activa conversación en torno al acceso inclusivo a la energía a escala.»
Peter George, Director de desarrollo empresarial e inversión, Clean Cooking Alliance

«La serie de informes Panorama Energético de los Pobres proporciona una perspectiva única y necesaria que se centra específicamente en las necesidades de energía de aquellas personas que corren el peligro de quedarse atrás en la transición energética.»
Glenn Pearce-Oroz, Director de política y programas, Sustainable Energy for All
Practical Action
Practical Action is an international development charity with a difference, working together with some of the world's poorest women, men and children, helping to alleviate poverty in the developing world through the innovative use of technology.