Book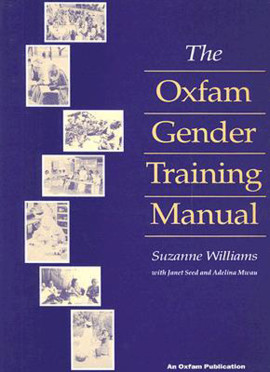 The Oxfam Gender Training Manual
Published: 1994
Pages: 648

: 9780855982676
This comprehensive approach to gender training in development encompasses work on gender awareness-raising and gender analysis at the individual, community and global level. An important reference source for development agency trainers and academics. This is a large, comprehensive manual that acknowledges the work of the gender trainers throughout the world who have developed the material. It contains everything you need to know to organise, run and evaluate group workshops on gender, with many practical exercises. Important concepts are explained at the beginning, such as defining gender and its relation to other issues. There are excellent guidelines for the facilitators: key issues, the seven steps of planning and running the training, are all explained. There is also guidance in preparing further case studies. The manual is made up of activities, handouts and facilitator's notes on the following broad areas: * Training techniques - suggests and explains a wide range of ideas and methods such as icebreakers and exercises to use when participants are tired or to encourage group feeling; * Getting started - looks at introductions, expectations, and sharing experience; * Gender awareness - building gender- and self-awareness, analysing roles and needs; * Gender and global issues - conflict, environment and culture; * Working with women and men- listening and working to include women; * Communicating gender, strategies for change and evaluation - images of gender, introducing gender to our organisations and creative evaluation. The book is written in a straightforward way. There is a guide to the manual to help readers find their way around. The index gives the title of the activity, timing and details of handouts needed. Handouts can be copied and there is a reference section of addresses, resources and further reading. The book is aimed at NGO staff with some experience in running workshops, and experienced gender trainers.
Acknowledgements

Foreword

Preface

A1) A guide to this manual

A2) Key concepts

B) Facilitators' guidlines

C1) Training techniques, ice breakers and energisers

C2) Getting Started

1) Introductions

Meanings of names • Admiring the opposite sex • Sharing our experiences of gender • Who am i - Where do i come from? • Life Story

2) Expectations

Expectations, hopes and fears • Ground rules • Introduction to the workshop • Objective jigsaw

3) Sharing work experience

Sharing work experience

4) Consensus on development

What is development? • Community development • The liberator

C3) Gender awareness and self awareness

1) Building gender awareness

Choosing the sex of your child • 'My organisation is a male/female organisation' • What is gender? • A baby is born • Gender circles • Choose your spots • The two baskets

2) Self-awareness for men and women

World upside down • Millie's mother's red dress • A Hindu story • What are male and female stereotypes? • Stereotypes: self-disclosure • Breaking the chain • Man to Man • Feminist poker • Becoming a man • Violence against women • Rape

C4) Gender roles and needs

The story of joan and john • Quiz on roles and activities of women and men • Myths about women and men, and their effects • The 24-hour day • Analysing roles and needs • Balloons: practical and strategic gender needs

C5) Women in the World

Women in our countries • Facts about women and men

C6) Gender and development

Wrong assumptions • Statements and policy approaches • Empowerment and participation • Visions of empowerment • Finding the balance • Development and relief: common elements

C7) Gender-sensitive appraisal and planning

Analytical framework • Moser method • The Harvard framework • Comparison methods • Longwe Methods • Mapping for Mars • Bangladesh maps • Checklists • Design a project • Case studies • Using case studies • Mwea rice scheme • Mini case studies • Woman in a Sudanese refugee camp

C8) Gender and Global issues

1) Gender and conflict

The impact of conflict • Drawing lessons from case studies • Capacities and vulnerabilities analysis • Timeline • Debate on gender and conflict

2) Gender and environment

Gender and environment myths • Downstream effects • Drawing livelihoods

3) Gender and economic crisis

Structural adjustments • The debt web • The Shamba and Mama Florence

4) Gender and culture

A cautionary tale • Creation story • Chains that bind us

C9) Working with women and men

1) Listening

Distortion of message • Listening skills • Listening to women • Did you know she knows a lot?

2) Working with women and men

Working to include women • Working with women and men on gender • Village meeting role play • Working with partners on gender • Finding out about women • positive action

C10) Communication gender

Images • Representing communities we work with • What do you want to say? • Critique of materials • Construct an image • Publicity design

C11) Strategies for change

Preparing for planning • Vision • Sculpture: What needs to change? • Maseno West: impact evalution • Setting priorities • Introducing gender to our organisation s • SWOT analysis • Recommendations for integrating gender • Action plans

C12) Evaluations

Individual responses • Creative evaluation • Mountain monitoring and evaluation • Trio evaluation • Evaluation questionnaire

Resources

1. Background reading

2. Training resources

3. Gender and development training resources

4. Videos

5. Organisations and networks
Suzanne Williams
Suzanne Williams is an independent Social Development Consultant with Goukamma Consulting, having worked for Oxfam GB from 1977 to 2004. She was one of Oxfam's pioneers of work on gender equality and violence against women, and authored and co-authored several key publications and articles for Oxfam GB on these issues.