Book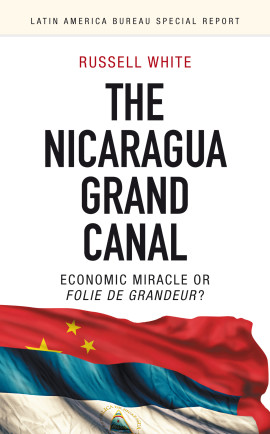 The Nicaragua Grand Canal
Economic Miracle or Folie de Grandeur?
Series: Latin America Bureau Special Report
Published: 2015
Pages: 74

eBook: 9781909014121
Paperback: 9781909014107
A canal through Nicaragua connecting two oceans has been a dream central to Nicaraguan identity and to the history of the country. But the current Canal scheme, passed in 2013, has catalysed opposition to President Ortega, who is seen to be using the project to boost his reputation. This book asks the questions: what are the possible economic benefits that the Canal will offer the country? What damage might the Canal will do to the environment, particularly to Lake Cocibolca, the largest source of freshwater in Central America? The Nicaragua Grand Canal explores the geopolitics of the project, especially the significance of China's involvement. The final sections of the book examine resistance to the Canal proposal from within Nicaragua. Although popular with the wider population, the Canal proposal has been greeted by protests particularly by peasant farmers whose land will be expropriated and by indigenous groups whose lives will be irrevocably altered by the Canal.
Section Title
Page
Action
Price

Russell White_prelims.pdf

1

Russell White.pdf

7
'The Nicaragua Grand Canal is a clear, balanced and accessible analysis of the background to the canal and its implications.'
Jenny Pearce, Professor Latin American Politics, Peace Studies, University of Bradford

'This book is fluent and supple in its expression and admirably open-minded in assessing the complex challenges faced by all parties. Well done indeed!'
James Dunkerley, Professor of Latin American Politics, Queen Mary College, University of London