Book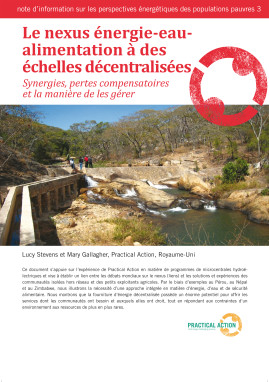 Le nexus énergie-eau-alimentation à des échelles décentralisées
Series: Poor People's Energy Briefing
Published: 2015
Pages: 16

eBook: 9781780448961
Ce document s'appuie sur l'expérience de Practical Action en matière de programmes de microcentrales hydroélectriques et vise à établir un lien entre les débats mondiaux sur le nexus (liens) et les solutions et expériences des communautés isolées hors réseau et des petits exploitants agricoles. Par le biais d'exemples au Pérou, au Népal et au Zimbabwe, nous illustrons la nécessité d'une approche intégrée en matière d'énergie, d'eau et de sécurité alimentaire. Nous montrons que la fourniture d'énergie décentralisée possède un énorme potentiel pour offrir les services dont les communautés ont besoin et auxquels elles ont droit, tout en répondant aux contraintes d'un environnement aux ressources de plus en plus rares.
Synthèse

Introduction

Le débat mondial sur les questions du nexus

Tirer des leçons du passé: synergies et pertes compensatoires liées au nexus

Plani cation pour le nexus: exemples au Zimbabwe

Conclusion

Notes

References
Lucy Stevens
Lucy Stevens is Senior Policy and Practice Adviser with Practical Action, UK. She leads the organisation's influencing and learning strategy on energy access.
Mary Gallagher
Mary Gallagher was a Policy Officer for Practical Action and focuses on improving the access of poor women and men to energy services, contributing to the organisations' vision of achieving Total Energy Access.