Book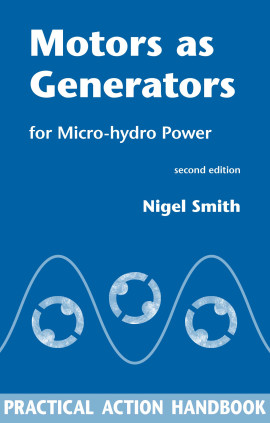 Motors as Generators for Micro-hydro Power
Published: 2007
Pages: 112

eBook: 9781780445533
Paperback: 9781853396458
This is a guide to the use of induction motors for electricity generation in remote locations. It is written as a practical handbook for engineers and technicians involved in designing and installing small water-power schemes for isolated houses and communities. This revised edition brings in new concepts developed and tested to expand the power range of application of motors as generators, to make this technology safer and more reliable, while keeping costs low and making it accessible to developing countries. It also contains a new chapter on mains-connecting micro-hydro generators. This edition also draws on the practical experience of manufacturers and installers of induction generator units working in village locations in a large number of countries, among them Sri Lanka, Nepal, Peru, Kenya and others.
Prelims (Contents, Figures, Tables, Acknowledgements, Preface, Introduction, Disclaimer)

1. Advantages and disadvantages of induction generators

2. Induction machine construction and operation

3. Selection of an induction motor for use as a generator

4. Excitation capacitor requirements

5. Operating voltage and frequency

6. The effect of load upon generator output

7. Single-phase output from a three-phase machine

8. Protection, safety and earthing

9. Fixed and variable load systems

10. Motor starting

11. Generator commissioning

12. Mains-connected systems

Back matter (Appendices 1 - 6, Index)
Nigel Smith Dr Nigel Smith is an independent engineering consultant with experience in low-cost electrification in developing countries.
A simplified propeller turbine runner design for stand alone micro-hydro power generation units
Demetriades, G. M.
Williams, A. A.
Smith, N. P. A.
International Journal of Ambient Energy, Vol. 17 (1996), Iss. 3 P.151
https://doi.org/10.1080/01430750.1996.9675235
[Citations: 3]
Gravity-Driven Water Flow in Networks
Microhydroelectric Power Generation
2011
https://doi.org/10.1002/9780470939659.ch12
[Citations: 0]
STATCOM-Based Controller for a Three-Phase SEIG Feeding Single-Phase Loads
IEEE Transactions on Energy Conversion, Vol. 29 (2014), Iss. 2 P.320
https://doi.org/10.1109/TEC.2014.2299574
[Citations: 44]
Static synchronous compensator‐variable frequency drive for voltage and frequency control of small‐hydro driven self‐excited induction generators system
Singh, Bhim
Murthy, Shikaripur Srinivasa
Chilipi, Rajasekhara Reddy
Madishetti, Sandeep
Bhuvaneswari, Gurumoorthy
IET Generation, Transmission & Distribution, Vol. 8 (2014), Iss. 9 P.1528
https://doi.org/10.1049/iet-gtd.2013.0703
[Citations: 24]
Hydroelectric Energy
Electrical Powe
2016
https://doi.org/10.1201/9781315374840-14
[Citations: 0]