Book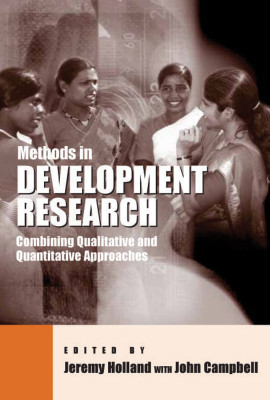 Methods in Development Research
Combining qualitative and quantitative approaches
Published: 2005
Pages: 304

eBook: 9781780440286
Paperback: 9781853395727
Over the past decade there has been an increasingly receptive audience for participatory and qualitative research methods by policy makers, development practitioners and academics working in applied research. At the same time there is an increasing awareness that the value of research can be enhanced through a more systematic combination of quantitative and qualitative methods. While this recent interest has begun to provide useful pointers as to how development research might be improved, it has also given rise to certain problems. This book will draw together lessons about emerging best practice with regard to combining qualitative and quantitative methods and approaches to generate numbers from qualitative/participatory methods and to monitor and evaluate development processes. It will build and expand upon innovation and reflection from practice in developing and developed societies, from within development agencies and academia, government departments and civil society organizations. By drawing on current research in many sectors and countries, the book will situate current development research issues squarely within debates about development policy and social research and it will help begin the process of defining best practice in the use of participatory/ qualitative and quantitative methods, and issues of methodological triangulation which are of considerable interest to academics, practitioners and policy makers. A genuine how to manual which combines best practice and new innovations and presents fascinating material for academics, practitioners and policy makers.
General introduction

Context and challenges for combining methods

in development research 1

Part I: Combining forces with qualitative and quantitative research 19

Introduction: Bridges and fences for combined methods 21

1 Little white pebbles: getting the research questions right

and getting the right data 27

MIKE JENNINGS

2 Some practical sampling procedures for development research 37

IAN WILSON

3 Impact assessment of microfinance: protocol for collection

and analysis of qualitative data 53

JAMES COPESTAKE, SUSAN JOHNSON

and KATIE WRIGHT-REVOLLEDO

4 What determines successful sustainable development projects?

Some evidence from the PRODERS experience in Mexico 71

GIL YARON, JUTTA BLAUERT and ALEJANDRO GUEVARA

5 Combining qualitative and quantitative methods in

evaluation-related rural tourism development research 85

JENNIFER BRIEDENHANN and EUGENIA WICKENS

Part II: Quantifying the qualitative in development research 93

Introduction: Reflections on quantification 95

6 Quantitative analysis approaches to qualitative data:

why, when and how? 97

SAVITRI ABEYASEKERA

7 What do you sense? Applying analytical sensory

evaluation techniques to research on

development issues 107

QUIRIEN VAN OIRSCHOT and KEITH TOMLINS

8 Strong fences make good neighbours: survey and

participatory appraisal methods in poverty assessment

and poverty reduction strategy monitoring 119

SIMON APPLETON and DAVID BOOTH

Part III: The process of combination: democratizing

research, empowerment and institutional change 136

Introduction: Combined research as process 139

9 Quality, quantity and the third way 141

NIGEL GILBERT

10 The peer ethnographic method for health research:

methodological and theoretical reflections 149

NEIL PRICE and KIRSTAN HAWKINS

11 Participatory indicator development for sustainable

natural resource management 163

ANDREW DOUGILL and MARK REED

12 Exploring the temporal logic model: a Colombian case study

evaluating assistance to internally displaced people 177

ANDREA LAMPIS

13 Trade-offs between management costs and research benefits:

lessons from the forest and the farm 191

KATHRIN SCHRECKENBERG, ADRIAN BARRANCE,

ANN DEGRANDE, JAMIE GORDON, ROGER LEAKEY,

ELAINE MARSHALL, ADRIAN NEWTON and ZAC TCHOUNDJEU

14 Evaluating democracy assistance: the inadequacy

of numbers and the promise of participation 205

GORDON CRAWFORD

15 Monitoring social policy outcomes in Jamaica: combined

methods, democratic research and institutional change 219

JEREMY HOLLAND, STEADMAN NOBLE,

ANDY NORTON and KEN SIGRIST

16 From development research to policy change: methodological

learning from a research capacity-building project 227

TANJA BASTIA, ELEANOR FISHER, JEREMY HOLLAND

and DUNCAN HOLTOM

Glossary 239

List of contributors 245

Endnotes 251

References 267

Index 285
Jeremy Holland Jeremy Holland is Lecturer at the Centre for Development Studies at the University of Wales Swansea
John Campbell Dr John R. Campbell is Senior Lecturer in the Anthropology of Development of the School of Oriental and African Studies.
Video Playback Speed Influence on Learning Effect From the Perspective of Personalized Adaptive Learning: A Study Based on Cognitive Load Theory
Mo, Chuan-Yu
Wang, Chengliang
Dai, Jian
Jin, Peiqi
Frontiers in Psychology, Vol. 13 (2022), Iss.
https://doi.org/10.3389/fpsyg.2022.839982
[Citations: 0]
The Future of the Gulf Region
Methodology and Data for Assessing the Effects of Global Cycles and Value Change on the Future of the Gulf Region
Tausch, Arno
2021
https://doi.org/10.1007/978-3-030-78299-3_2
[Citations: 0]
Quantitative or Qualitative: Selecting the Right Methodological Approach for Credible Evidence
Jones, Kenneth R.
Gwynn, Eugenia P.
Teeter, Allison
(2019)
https://doi.org/10.54718/KUET2761
[Citations: 1]
Arab MENA Countries: Vulnerabilities and Constraints Against Democracy on the Eve of the Global COVID-19 Crisis
Arab MENA States and Value Change: What Happens When Economic Globalization Is More Rapid Than Cultural Globalization
Solomon, Hussein
Tausch, Arno
2021
https://doi.org/10.1007/978-981-15-7047-6_4
[Citations: 0]
Not all experts are equal in the eyes of the International Auditing and Assurance Standards Board: On the application of ISA510 and ISA620 by South African registered auditors
Kok, Marianne
Maroun, Warren
South African Journal of Economic and management Sciences, Vol. 24 (2021), Iss. 1
https://doi.org/10.4102/sajems.v24i1.3784
[Citations: 1]
ADULT LEARNING ACTIVITIES, SOCIAL NETWORKS AND DIFFERENT NEIGHBOURHOODS
Krašovec, Sabina Jelenc
Kump, Sonja
European Societies, Vol. 11 (2009), Iss. 2 P.257
https://doi.org/10.1080/14616690802209705
[Citations: 10]
Implementing urban participatory climate change adaptation appraisals: a methodological guideline
Moser, Caroline
Stein, Alfredo
Environment and Urbanization, Vol. 23 (2011), Iss. 2 P.463
https://doi.org/10.1177/0956247811418739
[Citations: 44]
Arab MENA Countries: Vulnerabilities and Constraints Against Democracy on the Eve of the Global COVID-19 Crisis
Achievements and Deficits of the Arab MENA Economies on the Eve of the Current Global Corona Crisis
Solomon, Hussein
Tausch, Arno
2021
https://doi.org/10.1007/978-981-15-7047-6_3
[Citations: 0]
Learning from Doing Participatory Rural Research: Lessons from the Peak District National Park
Dougill, A. J.
Fraser, E. D. G.
Holden, J.
Hubacek, K.
Prell, C.
Reed, M. S.
Stagl, S.
Stringer, L. C.
Journal of Agricultural Economics, Vol. 57 (2006), Iss. 2 P.259
https://doi.org/10.1111/j.1477-9552.2006.00051.x
[Citations: 114]