Book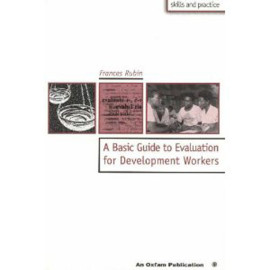 A Basic Guide to Evaluation for Development Workers
Published: 1995
Pages: 94

eBook: 9780855986599
Paperback: 9780855982751
Focuses on the principles underlying evaluation, and deals with issues to be considered at the planning stage, the steps involved in carrying out evaluations and the importance of involving people in the evaluation process throughout.
1 Introduction 9

2 Putting evaluation in context 13

3 Traditional and alternative models of evaluation 19

5 Putting evaluation into practice 29

6 Some practical considerations when planning an evaluation 56

7 Using evaluation: feedback and follow-up 69

Appendix 1 Checklists of questions 73

Appendix 2 Developing an evaluation plan 77

Appendix 3 Tasks for the team leader 79

Appendix 4 Suggestions for the content of an evaluation report 81

Appendix 5 Advantages and disadvantages of internal and external evaluators 83

References and further reading 85

Index 91
Frances Rubin
Frances Rubin has worked for national and international NGOs, bilateral and multilateral agencies, and commercial companies in the UK, Latin America, Africa, and Asia.
Managing Development Programs for Sustainability: Integrating Development and Research Through Adaptive Management
Mog, Justin Matthew
Society & Natural Resources, Vol. 19 (2006), Iss. 6 P.531
https://doi.org/10.1080/08941920600663961
[Citations: 8]
Assessing the Community Economic Impact of Nongovernmental Development Organizations
Woller, Gary
Parsons, Robert
Nonprofit and Voluntary Sector Quarterly, Vol. 31 (2002), Iss. 3 P.419
https://doi.org/10.1177/0899764002313006
[Citations: 11]
Performance Measurement and Project Evaluation for African Rural Information Services
Sturges, Paul
Wallis, Suzanna
Information Development, Vol. 15 (1999), Iss. 4 P.205
https://doi.org/10.1177/0266666994239967
[Citations: 3]
Development of a participatory monitoring and evaluation strategy
Holte-McKenzie, Merydth
Forde, Sarah
Theobald, Sally
Evaluation and Program Planning, Vol. 29 (2006), Iss. 4 P.365
https://doi.org/10.1016/j.evalprogplan.2006.08.007
[Citations: 32]
Facilitating Shared Online Group Learning between Carers, Service Users and Social Work Students
Quinney, Lee
Fowler, Peter
Social Work Education, Vol. 32 (2013), Iss. 8 P.1021
https://doi.org/10.1080/02615479.2012.734801
[Citations: 8]
Academics doing participatory disaster research: how participatory is it?
Le De, L.
Gaillard, J.C.
Friesen, W.
Environmental Hazards, Vol. 14 (2015), Iss. 1 P.1
https://doi.org/10.1080/17477891.2014.957636
[Citations: 22]
The logical framework: An easy escape, a straitjacket, or a useful planning tool?
Dale, Reidar
Development in Practice, Vol. 13 (2003), Iss. 1 P.57
https://doi.org/10.1080/0961452022000037982
[Citations: 30]