Book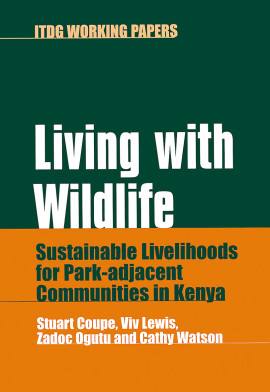 Conflicts over land use exist all over the world. In semi-arid parts of Africa, for example, pastoralists have by no means the same interests as settled farmers, lodge/safari company operators and tourists. Moreover, these conflicts of interest are likely to intensify if rural poverty and dependency on land increases. Building on ten years working with pastoral communities, IT carried out action research in Kenya with two communities for whom wildlife management issues are a matter of daily life. The research found very little trade off for these communities in terms of enhanced opportunities derived from local wildlife management systems. Many complex cultural and social issues are raised by a shift to cultivation and other new livelihood strategies for traditionally pastoralist communities, none of which currently promote beneficial interactions with wildlife conservation. This Working Paper presents detailed analysis of the two case studies and then addresses the question of whether the problematic situations which emerge can be addressed by improved management of interactions between the stakeholders, or whether in fact the dilemmas faced are part of a deeper structural conflict of interests which the more optimistic win-win literature on communities and wildlife management in Africa has obscured.
Prelims (Contents, Acknowledgements, Executive summary)

1. Living with Wildlife
Stuart Coupe
Stuart Coupe formerly International Projects Manager of the Reducing Vulnerability Team at Practical Action, an international NGO active on agricultural biodiversity and Farmers' Rights issues, has a background in Southern African Studies, including doctorate study and published works since 1992.
Viv Lewis
Viv Lewis, former Senior Food Production Specialist, ITDG, is currently Food Security Adviser, Plan International.
Zadoc Ogutu
Zadoc Ogutu is Senior Lecturer in the Department of Geography, Kenyatta University.
Cathy Watson
Cathy Watson, formerly ITDG, is now an independent consultant. She has worked extensively on pastoralist and agro-pastoralist issues.
Wildlife conservation through people-centred approaches to natural resource management programmes and the control of wildlife exploitation
Algotsson, Emma
Local Environment, Vol. 11 (2006), Iss. 1 P.79
https://doi.org/10.1080/13549830500396230
[Citations: 8]
Challenges to conservation: land use change and local participation in the Al Reem Biosphere Reserve, West Qatar
Sillitoe, Paul
Alshawi, Ali A
Al-Amir Hassan, Abdul K
Journal of Ethnobiology and Ethnomedicine, Vol. 6 (2010), Iss. 1
https://doi.org/10.1186/1746-4269-6-28
[Citations: 6]