Book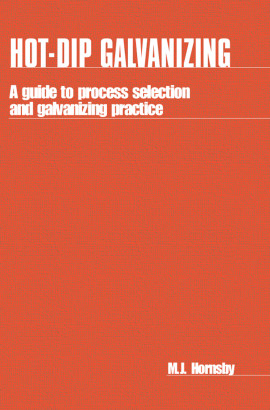 Hot-dip Galvanizing
A guide to process selection and galvanizing practice
Published: 1995
Pages: 80

eBook: 9781780442334
Paperback: 9781853391903
The demand for more durable fasteners to extend the life of equipment such as fishing vessels makes this illustrated introduction to hot-dip galvanizing an invaluable addition to the bookshelves of works managers, engineers, government officials and field project officers.

Hot-dip galvanizing is a cost-effective method of protecting cast iron or steel components from corrosion by coating them in zinc, thereby increasing the life of nuts, bolts and other items normally exposed to the elements.

The first section of this book describes wet, dry and 'old dry' processes of hot-dip galvanizing, including health and safety, principles and benefits, equipment, materials, power supply, maintenance and quality control. The processes are illustrated with flow diagrams and there are tables to compare the relative benefits of the different options.

The second section covers the specification and costing for a galvanizing plant once the market requirements have been established and the best method has been selected.
CHAPTER I. SOCIO-ECONOMIC EFFECTS OF ALTERNATIVE PAPER

MANUFACTURING TECHNOLOGIES; THE CASE FOR MINI

PAPER MILLS 1

I. INTRODUCTION 1

II. DEMAND, PRODUCTION AND TRADE 3

III. DEFINITION OF SMALL SCALE IN PAPER MANUFACTURE 4

IV. SOCIO-ECONOMIC EFFECTS OF ALTERNATIVE

PAPER-MAKING TECHNOLOGIES 5

V. GUIDELINES FOR GOVERNMENT ACTION 15

CHAPTER II. CHARACTERISTICS OF PAPER PRODUCTS 17

I. PRODUCT RANGE 17

II. PAPER AND BOARD GRADES 20

III. WRAPPING AND PACKAGING GRADES 22

IV. TESTING OF PAPER AND BOARD . 26

CHAPTER III. RAW MATERIALS AND ADDITIVES 29

I. FIBRE SOURCES 29

II. CHEMICALS 34

CHAPTER IV. PULP PRODUCTION TECHNOLOGIES 37

I. CHEMICAL PULP PRODUCTION 37

II. CHEMI-MECHANICAL PULPING 52

III. SEMI-MECHANICAL PULPING 55

IV. CHEMICAL RECOVERY 55

V. EFFLUENT DISPOSAL 62

VI. STOCK PREPARATION 63

V I I . STOCK CONTROL 83

CHAPTER V. THE PAPER MACHINE 87

I . PAPER PRODUCTION 87

I I . THE BOARD MACHINE 102

CHAPTER V I . METHODOLOGICAL FRAMEWORK FOR ESTIMATING

UNIT PRODUCTION COSTS 109

I . THE METHODOLOGICAL FRAMEWORK 109

I I . APPLICATION OF THE METHODOLOGICAL FRAMEWORK 112

I I I . COST DATA FOR INDIAN MILLS 120

APPENDICES

I ; LIST OF EQUIPMENT MANUFACTURERS 127

II : EUROPEAN LIST OF THE STANDARD QUALITIES OF WASTE PAPER 139

I I I : BIBLIOGRAPHY 143

IV : SELECTED RESEARCH AND DEVELOPMENT INSTITUTIONS 145

V ; GLOSSARY OF TERMS AND ABBREVIATIONS 147