Book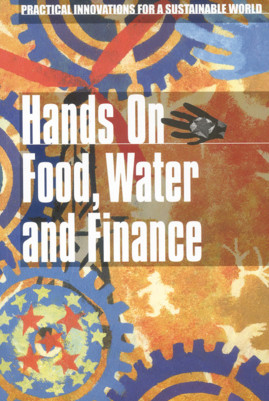 Hands On Food, Water and Finance
Published: 2002
Pages: 256

eBook: 9781780445106
Paperback: 9781853395154
Appropriate 'green' technologies are sometimes regarded as a second-rate solution but the series Practical Innovations for a Sustainable World challenges this concept by presenting real-life examples of successful appropriate technology stories from Europe, Asia, Africa and Latin America. All of the studies in these two books have been produced as a result of personal experience from somewhere in the world. Subjects covered in the series include success stories from agriculture, agro-processing, enterprise, energy, building and shelter, water and sanitation and recycling. Based on the Hands On series of video films prepared by the Television Trust for the Environment and broadcast on BBC World, these books promote appropriate innovations and environmentally sound solutions which can help reduce consumption. All of the new technologies and scientific breakthroughs described in the books can be applied by individuals and entrepreneurs at a reasonable cost to themselves and to the community. Some of the initiatives can be applied in the home, while others can be used by entrepreneurs to stimulate green business and small-scale enterprise. The books offer a range of suitable solutions for development professionals, NGOs, entrepreneurs and individuals who want to improve people's livelihoods and the environment. They give practical advice and demonstrate a wide range of 'how to' technologies including income-generating schemes in cities like Delhi and Dhaka, transport initiatives in Kathmandu and Amsterdam, and energy-saving projects in Addis Ababa and Beijing. Hands On - Food, Water and Finance looks at innovations in agriculture, food processing, water and sanitation and small business development.
1 Improved water supplies

2 Better sanitation

3 Fruits of the sea and lake

4 Small-scale farming

5 Cash crops

6 Banking on local enterprise

7 Health and safety matters

Bibliography

Appendix
Emma Judge
Emma Judge is a freelance writer and photographer, based in Malawi. She set up Dawa Productions as a private development consultancy in 2004 to assist with the social and economic development of Southern, East and Central Africa through providing high quality promotional materials, consultancy and training services for governmental, non-governmental and community based organisations.