Book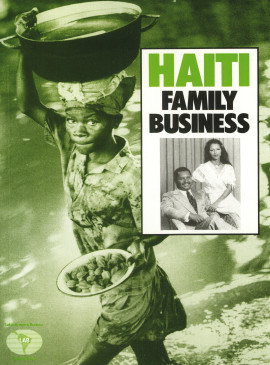 Haiti
Family Business
Published: 1990
Pages: 94

eBook: 9781909013254
Paperback: 9780906156193
Almost 200 years ago, the Haitian people launched a revolution which ended slavery and established the world's first independent black republic. But it was a country 'born in ruins'. Once a source of plunder for the French colonial power, the national economy has since been a source of personal enrichment for a series of rapacious rulers. The most recent of these, 'Papa' and 'Baby Doc' Duvalier, have between them ruled Haiti for the last 30 years, turning the country into a virtual 'family business'. Repression, punctuated with occasional periods of liberalization, has sustained a social order in which an estimated 75 per cent of the rural population live on the edge of starvation.

Haiti: Family Business traces the historical orgins of the 'Duvalier system' and shows how and why it has survived until now. It examines the modern Haitian economy, the country's social structure and the role of the United States, for most of this century a key actor n Haitian political life. The book also looks at the forces for change in a country which has in recent years undergone some economic modernization and assesses the future prospects of the 'Duvalier system'.
Prelims - Haiti (Title Page, Copyright Information, Contents, Map)

1. Haiti
Blood donation practices, motivations and beliefs in Montreal's Black communities: the modern gift under a new light
Tran, Nathalie Y.L.
Charbonneau, Johanne
Valderrama-Benitez, Valeria
Ethnicity & Health, Vol. 18 (2013), Iss. 6 P.508
https://doi.org/10.1080/13557858.2012.734279
[Citations: 21]
bad blood, spoiled milk: bodily fluids as moral barometers in rural Haiti
FARMER, PAUL
American Ethnologist, Vol. 15 (1988), Iss. 1 P.62
https://doi.org/10.1525/ae.1988.15.1.02a00050
[Citations: 92]
Politics and Power in Haiti
The Macoutization of Haitian Politics
Sylvain, Patrick
2013
https://doi.org/10.1057/9781137312006_4
[Citations: 1]
Cholera Outbreaks
The Cholera Outbreak in Haiti: Where and How did it begin?
Lantagne, Daniele
Balakrish Nair, G.
Lanata, Claudio F.
Cravioto, Alejandro
2013
https://doi.org/10.1007/82_2013_331
[Citations: 14]
Anthropology, accountability, and the prevention of AIDS
Farmer, Paul
Kim, Jim Yong
Journal of Sex Research, Vol. 28 (1991), Iss. 2 P.203
https://doi.org/10.1080/00224499109551606
[Citations: 16]
Force and democracy: UN/US intervention in Haiti
Morris, Justin
International Peacekeeping, Vol. 2 (1995), Iss. 3 P.391
https://doi.org/10.1080/13533319508413568
[Citations: 3]