Book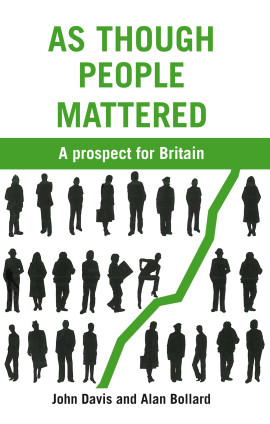 As Though People Mattered
A prospect for Britain
Published: 2013
Pages: 174

eBook: 9781780448091
Hardback: 9781853398094
Paperback: 9781853398100
Must Britain sink from riches to rags in two generations? Must we pursue indiscriminate growth through unlimited consumption? The essential purpose of economic development and discriminating growth should be to enable all people to live fulfilled lives, and that objective can only be achieved through appropriate technologies, institutions and legislation. This book's message is hopeful: it is about the 'real economy' of a rapidly increasing world population, of limited and maldistributed resources that are in many instances non-renewable – and a world of people with an amazing range of skills, talents and needs. As Though People Mattered tells what is actually happening today, in Britain, in the move towards a sustainable world of strong local communities, abundant small-scale enterprise and the 'conserver' society. Small is happening!
First published in 1986, this revised limited edition has been commissioned to highlight the continuing relevance of the central message of this book.
Contents, Preface, Introduction

1The changes afoot

2 Manpower, money and machines

3 Forces at work

4 Technology choices

5 Engineering the future

6 Being your own boss

7 Big prospects for small firms

8 The rules of the game

9 Taking the initiative

10 Small beginnings

Appendix: Things for people to do
John Davis
John Davis is a chartered engineer and was the National Secretary of the Industrial Christian Fellowship. His experience includes several years as Head of Products and Marketing Development in Shell International Petroleum, and as chairman and chief executive of groups of small Shell subsidiary companies. He has been a contributor to the Guardian and is author of Energy – To Use or Abuse and Technologies for a Changing World.
Alan Bollard
Dr Alan Bollard was appointed as Governor of the Reserve Bank of New Zealand in September 2002. Dr Bollard has also worked as an economist in a variety of positions in the United Kingdom and in the South Pacific.