Book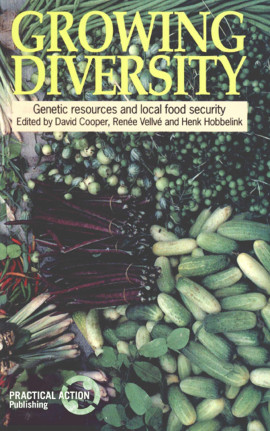 Growing Diversity
Genetic resources and local food security
David Cooper, Renée Velve, Henk Hobbelink
Published: 1992
Pages: 176

eBook: 9781780445069
Hardback: 9781853391194
Paperback: 9781853391231
Activists present their experiences of managing plant genetic resources. The contributors document the achievements of farmers in developing crop varieties tailored to their needs, and demonstrate how these approaches can be built upon.
Acknowledgements/About this book vii
1. Why farmer-based conservation and
improvement of plant genetic resources? 1
GRAIN
2. Community plant genetic resources
management: experiences in Southeast Asia 17
RENE SALAZAR
3. Sowing community seed banks in Indonesia 30
DIDI SOETOMO
4. An integrated NGO approach in Thailand 38
DAY-CHA SIRIPATRA and WITOON UANCHAMROON
5. Women and biological diversity: lessons from
the Indian Himalaya 44
VANDANA SHIVA and IRENE DANKELMAN
6. Promoting traditional trees and food crops in
Kenya 53
KIHIKA KIAMBI and MONICA OPOLE
7. Zimbabwean farmers as the starting point 69
ANDREW MUSHITA
8. Ethiopia: a genebank working with farmers 78
MELAKU WOREDE
9. Developing local seed production in Mozambique 97
ANDREA GAIFAMI
10. Grassroots conservation efforts in Latin America 106
CAMILA MONTECINOS and MIGUEL ALTIERI
11. Promoting local conservation in Ecuador 116
MIGES BAUMANN
12. Towards a folk revolution 125
PAT ROY MOONEY
13. Facing the challenges of grassroots conservation 146
CAMILA MONTECINOS
Annexes: Acronyms used in this book 155
A guide to technical, unfamiliar or
strange-sounding terms used in this book 156
Addresses 159
Selected reading 161
Notes 166

David Cooper David Cooper works in plant genetic resources at the Food and Agriculture Organization (FAO)
Renée Velve Renée Velve began working on biodiversity issues in the early 1980s, when she became active with French groups fighting for farmers' rights to use local seeds. For 15 years she was based in the Philippines, helping carry out GRAIN's global programme work. She helps run the open-publishing websites bilaterals.org and farmlandgrab.org, and helps with the overall coordination of GRAIN.
Henk Hobbelink Henk Hobbelink is an agronomist by training. In the 1980s he worked with farmers in Peru on sustainable pest management and worked with Dutch and European NGOs drawing attention to the importance of agricultural biodiversity for the future of farming. He is the coordinator of GRAIN, and as such is responsible for the overall functioning of the organization as well as conducting global trends research, writing and outreach activities.