Book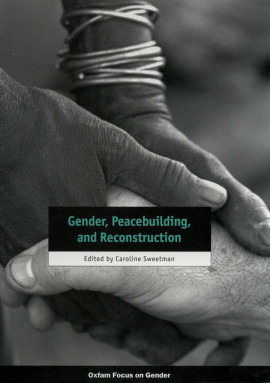 Gender, Peacebuilding, and Reconstruction
Published: 2004
Pages: 112

eBook: 9780855987527
Paperback: 9780855985332
Women are active players in reconciliation and post-conflict reconstruction processes. Moreover, sustainable peace depends on equal representation of all citizens in peacetime decision-making.This collection of articles explores conflict prevention through development projects in places where resources are scarce, and age-old agreements between groups come under strain. Other activities take place to arrest existing conflicts, by forming alliances across warring forces - the authors argue that women play a significant but underestimated role in this type of work. Most of their activities take place through grassroots organisations, due to their lack of access to formal decision-making. Traditional stereotypes of mothers and wives are invoked by many women to legitimise innovative conflict prevention strategies which men might otherwise question.Other articles here focus on women's efforts to build lasting peace through transforming old inequitable government structures into democratic institutions. International organisations and NGOs tend to limit their focus to women's welfare and protection in conflict and post-conflict situations, but they should focus as well on supporting women's attempts to gain access to leadership.
Editorial

Caroline Sweetman

Counter-revolutionary women: gender and reconciliation in post-war Nicaragua

Julie Cupples

Reconstructing fragile lives: girls' social reintegration in northern Uganda and Sierra Leone

Susan McKay

Post-conflict programmes for women: lessons from the Kosovo Women's Initiative

Agnes Kalungu-Banda

Mainstreaming gender in conflict reduction: from challenge to opportunity

Jasmine Whitbread

Promoting a gender-just peace: the roles of women teachers in peacebuilding and reconstruction

Jackie Kirk

Gender, participation, and post-conflict planning in northern Sri Lanka

Simon Harris

The gender dimensions of post-conflict reconstruction: an analytical framework for policymakers

Elaine Zuckerman and Marcia Greenberg

Building capacity to resolve conflict in communities: Oxfam experience in Rwanda

Rosemarie McNairn

Sustaining peace, re-building livelihoods: the Gujarat Harmony Project

Sara Ahmed

Resources

Compiled by Erin Leigh

Publications

Journals

Electronic resources

Tools

Websites

Organisations
Caroline Sweetman was previously Editor of the international journal Gender & Development.
Sex, Security and Superhero(in)es: From 1325 to 1820 and Beyond
Shepherd, Laura J.
International Feminist Journal of Politics, Vol. 13 (2011), Iss. 4 P.504
https://doi.org/10.1080/14616742.2011.611659
[Citations: 88]
The objectified female body and the Boko Haram insurgency in northeast Nigeria: Insights from IDP camps in Abuja
Agbaje, Funmilayo Idowu
African Security Review, Vol. 29 (2020), Iss. 1 P.3
https://doi.org/10.1080/10246029.2020.1776348
[Citations: 1]
Interrogating women's peace work: community-based peacebuilding, gender, and savings' co-operatives in post-conflict Nepal
Ramnarain, Smita
Community Development Journal, Vol. 50 (2015), Iss. 4 P.677
https://doi.org/10.1093/cdj/bsu065
[Citations: 3]
Feminist Perspectives on Post-riot Judicial Inquiry Commissions in India
Rajeshwari, B.
Journal of Asian Security and International Affairs, Vol. 4 (2017), Iss. 2 P.196
https://doi.org/10.1177/2347797017710747
[Citations: 0]