Book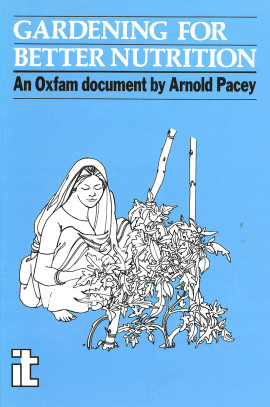 Gardening for Better Nutrition
Published: 1978
Pages: 64

eBook: 9781780442273
Paperback: 9780903031509
A nutritional approach directed to rural women to encourage them to grow more and better food for their families in areas of widespread malnutrition. Includes details of suitable tools, plant varieties and gardening methods for the tropics and subtropics.
9781780442273.000 (page 1)
9781780442273.001 (page 7)
Section 1: Agriculture, Malnutrition, and the Voluntary Agencies (page 7)
Section 2: Approaches Based on Health Services (page 9)
Section 3: Approaches Involving Community Participation (page 15)
Section 4: Choice of Crops for Improved Nutrition (page 20)
Section 5: Agronomy of Vegetables Suitable for Gardening Projects (page 27)
Section 6: Problems and Methods in Starting New Gardens (page 42)
Section 7: Gardening Techniques in Outline (page 48)
Conclusion (page 61)
Bibliography (page 62)

Arnold Pacey
Arnold Pacey was lecturer at the University of Manchester, Institute of Science and Technology, 1963-72; editor for Oxfam, 1973-74; Associate Lecturer at the Open University, Yorkshire Region, Leeds, 1976-2000; and retired in 2001.