Book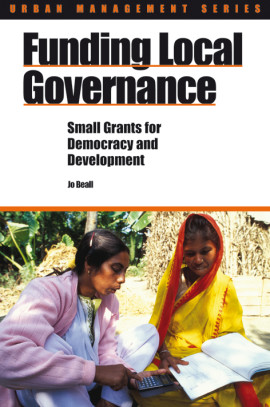 Funding Local Governance
Small grants for democracy and development
Series: Urban Management Series
Published: 2005
Pages: 208

eBook: 9781780443287
Paperback: 9781853395970
International development is replete with examples of failure. This has led to notes of cynicism being struck in commentaries on development, whether in relation to failed states, donor ineptitude or the unaccountability of NGOs. Precisely because the grand visions have not been realized and macro-level policies have been so controversial, attention turned to initiatives at the local level. However, too many expectations were placed on interventions at the local level and it did not take long before they became formalized, institutionalized and bureaucratized, losing their capacity for rapid response and flexibility. This book is about an alternative approach. Starting from a critical engagement with theories of decentralization and a review of social funds, it explores the value of funding local initiatives that are designed not only to support development activities but also to promote local democracy. Reviewing experiences from Africa, Asia, Europe and Latin America, the book demonstrates how local funds can deliver development within the context of a rights-based approach and as a critical component of democratic decentralization. It will appeal to academic, professional and practitioner audiences, people working in international development agencies, NGOs and in local government,
PART I Local funds and the policy environment

1. Introduction: local funds and development

2. Local funds, governance, and democracy

3. Local funds, social policy, and development

PART II Local funds and lessons from practice

4. From social funds to local funds in Mexico and their gender impact

5. Local funds as an aid instrument: conventional examples from

multilateral aid

6. Small funds and direct budget support: innovative examples from

bilateral aid

7. Participatory budgeting and local governance: South-North lessons

8. Challenge funds and partnership: North-South lessons

PART III Managing local funds: the inside view

9. The delivery and management of local funds: learning on the job

in Zambia and Bangladesh

10. Conclusions: a little goes a long way

References

Index
Jo Beall
Jo Beall is Reader in Development Studies and directs the Development Studies Institute at the London School of Economics and Political Science. She is editor of A City for All (1997) and co-author of Uniting a Divided City (2002).