Book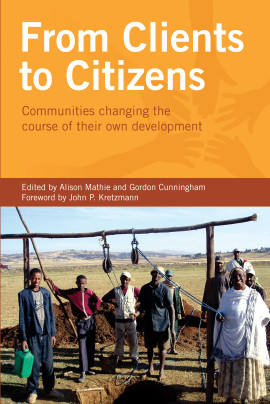 Communities worldwide act on their own initiative, drawing on their own resources of leadership and solidarity, and in spite of poverty, to achieve their own goals. Development practitioners have too often viewed poor communities as helpless and disadvantaged, and have encouraged their dependency. Yet if instead communities are recognized as having social and cultural as well as material assets, and these are what help them to overcome obstacles, then their capacity to negotiate external assistance on their own terms can be strengthened. From the Moroccan villages that secured irrigation infrastructure with the help of returning migrants, to the Egyptian youth leaders who wanted a soccer pitch for their village, and the indigenous women's cooperative in Ecuador that now exports medicinal plants, this book describes case studies of communities that first built on their own assets, before seeking assistance from outside. What are the common factors that help all these communities mobilize? Do outside organizations have a role to play when communities take charge of their own development? From Clients to Citizens is aimed at community workers, researchers and policy makers who want to take a fresh look at community development.
Foreword: John P. Kretzmann
Introduction
Section I: Communities mobilizing assets and driving their own development
1 Possibilities for income-deprived but capability-rich communities in Egypt
2 God created the world and we created Conjunto Palmeira: four decades of forging community and building a local economy in Brazil
3 Building the Mercado Central: Asset Based Community Development and community entrepreneurship in the USA
4 The Jambi Kiwa story: mobilizing assets for community development in Ecuador
5 When bamboo is old, the sprouts appear: rekindling local economies through traditional skills in Hanoi, Vietnam
6 By their own hands: two hundred years of building community in St Andrews, Nova Scotia, Canada
7 The hardware and software of community development: migrant infrastructure projects in rural Morocco
8 A spreading banyan tree: the Self Employed Women's Association, India
9 People's institutions as a vehicle for community development: a case study from Southern India
10 Jansenville Development Forum: linking community and government in the rural landscape of the Eastern Cape Province, South Africa
Section II: ABCD in Ethiopia, Kenya and the Philippines
11 Stimulating Asset Based and Community Driven Development: lessons from five communities in Ethiopia
12 Reviving self-help: an NGO promotes Asset Based Community Development in two communities in Kenya
13 From DCBA to ABCD: the potential for strengthening citizen engagement with local government in Mindanao, the Philippines
14 Conclusion
Index

Alison Mathie
Alison Mathie has over 30 years experience in the international development field and has been teaching at the Coady International Institute and St Francis Xavier University for the last 10 years. Her main interest has been in promoting asset-based and community-driven approaches to community development, and using monitoring and evaluation as a means to strengthening practice by communities, NGOs, and multi-lateral agencies.
Gordon Cunningham
Gordon Cunningham has more than 20 years of experience in community economic development and community-based microfinance. At the Coady Institute, he is involved in several collaborative action research initiatives in Africa and South East Asia exploring the application of asset-based and citizen-driven approaches to community development. Gordon also teaches and has co-authored several articles relating to these topics in The Canadian Journal of Development Studies and Development and Practice.