Book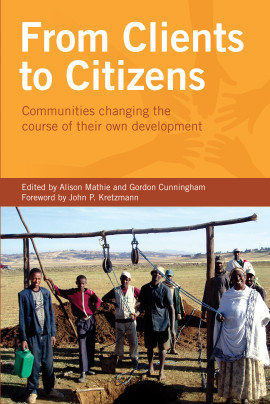 Communities worldwide act on their own initiative, drawing on their own resources of leadership and solidarity, and in spite of poverty, to achieve their own goals. Development practitioners have too often viewed poor communities as helpless and disadvantaged, and have encouraged their dependency. Yet if instead communities are recognized as having social and cultural as well as material assets, and these are what help them to overcome obstacles, then their capacity to negotiate external assistance on their own terms can be strengthened. From the Moroccan villages that secured irrigation infrastructure with the help of returning migrants, to the Egyptian youth leaders who wanted a soccer pitch for their village, and the indigenous women's cooperative in Ecuador that now exports medicinal plants, this book describes case studies of communities that first built on their own assets, before seeking assistance from outside. What are the common factors that help all these communities mobilize? Do outside organizations have a role to play when communities take charge of their own development? From Clients to Citizens is aimed at community workers, researchers and policy makers who want to take a fresh look at community development.
Foreword: John P. Kretzmann

Introduction

Section I: Communities mobilizing assets and driving their own development

1 Possibilities for income-deprived but capability-rich communities in Egypt

2 God created the world and we created Conjunto Palmeira: four decades of forging community and building a local economy in Brazil

3 Building the Mercado Central: Asset Based Community Development and community entrepreneurship in the USA

4 The Jambi Kiwa story: mobilizing assets for community development in Ecuador

5 When bamboo is old, the sprouts appear: rekindling local economies through traditional skills in Hanoi, Vietnam

6 By their own hands: two hundred years of building community in St Andrews, Nova Scotia, Canada

7 The hardware and software of community development: migrant infrastructure projects in rural Morocco

8 A spreading banyan tree: the Self Employed Women's Association, India

9 People's institutions as a vehicle for community development: a case study from Southern India

10 Jansenville Development Forum: linking community and government in the rural landscape of the Eastern Cape Province, South Africa

Section II: ABCD in Ethiopia, Kenya and the Philippines

11 Stimulating Asset Based and Community Driven Development: lessons from five communities in Ethiopia

12 Reviving self-help: an NGO promotes Asset Based Community Development in two communities in Kenya

13 From DCBA to ABCD: the potential for strengthening citizen engagement with local government in Mindanao, the Philippines

14 Conclusion

Index
Alison Mathie
Alison Mathie has over 30 years experience in the international development field and has been teaching at the Coady International Institute and St Francis Xavier University for the last 10 years. Her main interest has been in promoting asset-based and community-driven approaches to community development, and using monitoring and evaluation as a means to strengthening practice by communities, NGOs, and multi-lateral agencies.
Gordon Cunningham
Gordon Cunningham has more than 20 years of experience in community economic development and community-based microfinance. At the Coady Institute, he is involved in several collaborative action research initiatives in Africa and South East Asia exploring the application of asset-based and citizen-driven approaches to community development. Gordon also teaches and has co-authored several articles relating to these topics in The Canadian Journal of Development Studies and Development and Practice.
Asset-Based Adaptation Project Promotes Tree and Shrub Diversity and Above-Ground Carbon Stocks in Smallholder Agroforestry Systems in Western Kenya
Fuchs, Lisa Elena
Orero, Levi
Ngoima, Stephen
Kuyah, Shem
Neufeldt, Henry
Frontiers in Forests and Global Change, Vol. 4 (2022), Iss.
https://doi.org/10.3389/ffgc.2021.773170
[Citations: 0]
Citizen-Led Innovation for a New Economy
RECLAIMING LAND, REAFFIRMING CULTURE
Davison, Phil
2015
https://doi.org/10.3362/9781780449210.011
[Citations: 0]
An investigation into the training of community development workers within South Africa
Westoby, Peter
van Blerk, Rubert
Development in Practice, Vol. 22 (2012), Iss. 8 P.1082
https://doi.org/10.1080/09614524.2012.714354
[Citations: 5]
Negotiating Reconciliation in Peacemaking
Reconciliation and Development
Anstey, Mark
2017
https://doi.org/10.1007/978-3-319-62674-1_7
[Citations: 0]
Informal Economic Activities in Industrialized Nations: Insights From Belgium and the United Kingdom
Agiro, Abiy
Matusitz, Jonathan
Breen, Gerald-Mark
Journal of Human Behavior in the Social Environment, Vol. 25 (2015), Iss. 5 P.441
https://doi.org/10.1080/10911359.2014.980595
[Citations: 1]
Reshaping Entrepreneurship Education With Strategy and Innovation
Growing Women Entrepreneurship in the Creative Industries in South Africa
Tshishonga, Ndwakhulu Stephen
2021
https://doi.org/10.4018/978-1-7998-3171-6.ch012
[Citations: 0]
Evaluating the community outcomes of Australian learning community initiatives: innovative approaches to assessing complex outcomes
Cavaye, Jim
Wheeler, Leone
Wong, Shanti
Simmons, Jan
Herlihy, Paula
Saleeba, Jim
Community Development, Vol. 44 (2013), Iss. 5 P.597
https://doi.org/10.1080/15575330.2013.853681
[Citations: 0]
Citizen-Led Innovation for a New Economy
PLANTING THE SEEDS OF A NEW ECONOMY
Mathie, Alison
Gaventa, John
2015
https://doi.org/10.3362/9781780449210.001
[Citations: 0]
Rural and Small Public Libraries: Challenges and Opportunities
Exploring Rural Public Library Assets for Asset-Based Community Development
Miller, Karen
2017
https://doi.org/10.1108/S0065-283020170000043004
[Citations: 0]
Asset-based and citizen-led development: Using a diffracted power lens to analyze the possibilities and challenges
Mathie, Alison
Cameron, Jenny
Gibson, Katherine
Progress in Development Studies, Vol. 17 (2017), Iss. 1 P.54
https://doi.org/10.1177/1464993416674302
[Citations: 28]
Making the human dimensions of sustainable community development visible to engineers
Lucena, Juan
Schneider, Jen
Leydens, Jon A
Proceedings of the Institution of Civil Engineers - Engineering Sustainability, Vol. 164 (2011), Iss. 1 P.13
https://doi.org/10.1680/ensu.1000014
[Citations: 6]
A Tangled Path: Negotiating Leadership for, in, of, and with Diverse Communities
Goddard, J. Tim
Leadership and Policy in Schools, Vol. 14 (2015), Iss. 1 P.1
https://doi.org/10.1080/15700763.2014.983133
[Citations: 5]
Handbook of Sustainable Engineering
Engineers and Community: How Sustainable Engineering Depends on Engineers' Views of People
Lucena, Juan C.
2013
https://doi.org/10.1007/978-1-4020-8939-8_51
[Citations: 4]
Creative Education, Teaching and Learning
Reading the World: Developing Communities through Arts and Asset-Based Education
Shorter, Lynn
2015
https://doi.org/10.1057/9781137402141_12
[Citations: 0]
An integration of the livelihoods and asset-based community development approaches: A South African case study
Nel, Hanna
Development Southern Africa, Vol. 32 (2015), Iss. 4 P.511
https://doi.org/10.1080/0376835X.2015.1039706
[Citations: 17]
The Joiners: Active Voluntary Association Membership in Twenty African Countries
Compion, Sara
VOLUNTAS: International Journal of Voluntary and Nonprofit Organizations, Vol. 28 (2017), Iss. 3 P.1270
https://doi.org/10.1007/s11266-017-9830-8
[Citations: 8]
"Now I Know My ABCDs": Asset-Based Community Development with School Children in Ethiopia
Johnson Butterfield, Alice K.
Yeneabat, Mulu
Moxley, David P.
Children & Schools, Vol. 38 (2016), Iss. 4 P.199
https://doi.org/10.1093/cs/cdw031
[Citations: 6]
Relocating Civil Society in a Politics of Civic-Driven Change
Fowler, Alan
Biekart, Kees
Development Policy Review, Vol. 31 (2013), Iss. 4 P.463
https://doi.org/10.1111/dpr.12015
[Citations: 10]
Citizen-Led Innovation for a New Economy
PERMEATING THE MAINSTREAM
Mathie, Alison
2015
https://doi.org/10.3362/9781780449210.010
[Citations: 0]
A Comparison between the Asset-oriented and Needs-based Community Development Approaches in Terms of Systems Changes
Nel, Hanna
Practice, Vol. 30 (2018), Iss. 1 P.33
https://doi.org/10.1080/09503153.2017.1360474
[Citations: 24]
Community-based resilience building: normative meets narrative in Mbale, 2010/2011
Jenkins, David Harrison
Harris, Anthony
Abu Tair, Abdul
Thomas, Hilary
Okotel, Richard
Kinuthia, John
Mofor, Linus
Quince, Marga
Environmental Hazards, Vol. 12 (2013), Iss. 1 P.47
https://doi.org/10.1080/17477891.2012.738641
[Citations: 8]
Engineering and Sustainable Community Development
Engineering with Community
Lucena, Juan
Schneider, Jen
Leydens, Jon A.
2010
https://doi.org/10.1007/978-3-031-79961-7_4
[Citations: 0]