Book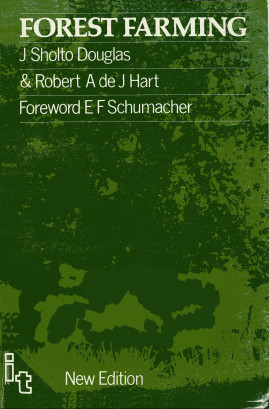 The integration of tree and other farming can establish a sounder ecological balance and greater productivity of food and materials for clothing, fuel and shelter. The book suggests planting and cropping methods, and a range of potentially useful trees.
Foreword by E. F. Schumacher ix

Introduction xiii

Introduction to New Edition xv

i Re-vitalising the Rural Areas 1

2 Trees and Man Io

3 Ecological Cultivation 17

4 The Background of Forest Farming 25

5 What is Forest Farming? 35

6 Designing a Forest Farm 47

7 Planting and Cropping 63

8 The Choice of Trees : Leguminous 86

9 The Choice of Trees : Nuts 100

zo The Choice of Trees : Fruit, Oil and Fodder 120

ii Fields for Expansion : Temperate Uplands 1 36

12 Fields for Expansion : Deserts ISO

APPENDICES

I Ancillary Species for Fodder , Conservation and

Other Purposes 1 63

ii Grasses and Herbage 171

III Oil-Producing Eucalypts 179

IV Measuring Devices 187

V Seed Supplies 19o

VI List of Institutions and Organisations 197

Bibliography 1 99

Acknowledgements 202

Addenda 204

Index 205
Handbook of Climate Change Resilience
Building Eco-social Resilience in Rural Communities: Benefits of Permaculture Pedagogy and Praxis
Epstein HaLevi, David Yisrael
Misiaszek, Greg William
Kelly, Hugh
Shah, Sheena
Mugarura, Charles
Walsh, Liam James
2020
https://doi.org/10.1007/978-3-319-93336-8_104
[Citations: 2]
Food forests: Their services and sustainability
Albrecht, Stefanie
Wiek, Arnim
(2021) P.1
https://doi.org/10.5304/jafscd.2021.103.014
[Citations: 3]
Encyclopaedia of the History of Science, Technology, and Medicine in Non-Western Cultures
Agroforestry in Africa
Pacey, Arnold
2016
https://doi.org/10.1007/978-94-007-7747-7_8987
[Citations: 0]
Productive Conservation: Diversifying Farm Enterprises by Producing Specialty Woody Products in Agroforestry Systems
Josiah, Scott J.
St-Pierre, Richard
Brott, Heidi
Brandle, James
Journal of Sustainable Agriculture, Vol. 23 (2004), Iss. 3 P.93
https://doi.org/10.1300/J064v23n03_08
[Citations: 20]
Handbook of Climate Change Resilience
Building Eco-Social Resilience in Rural Communities: Benefits of Permaculture Pedagogy and Praxis
Epstein HaLevi, David Yisrael
Misiaszek, Greg William
Kelly, Hugh
Shah, Sheena
Mugarura, Charles
Walsh, Liam James
2018
https://doi.org/10.1007/978-3-319-71025-9_104-1
[Citations: 0]