Book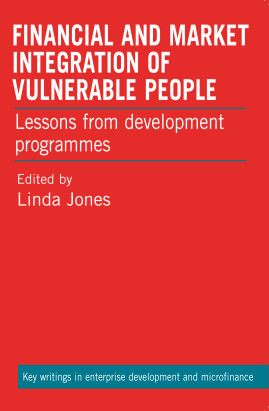 Financial and Market Integration of Vulnerable People
Lessons from development programmes
Published: 2015
Pages: 162

eBook: 9781780448879
Paperback: 9781853398889
Hardback: 9781853398872
Smallholder farmers, women earners, young job-seekers, people with disability and the entrenched poor often struggle to sustain themselves or contribute to the wellbeing of their households. Despite years of attempting to address this situation, microfinance and enterprise development programmes have repeatedly been unable to reach the poorest and most vulnerable. However, some programmes and approaches are making advances, and this book provides conceptual and practical insights into how we can facilitate change for those most in need. It poses questions such as: how can we enable the participation and contribution of vulnerable populations in economic development programming? In what ways are subsidies being used creatively to increase assets without creating dependence? How can barriers to access for disabled people be reduced for greater financial inclusion? Is it possible for smallholders to be integrated into commercial value chains without increasing their risks? Which graduation models help poorest people to move out of extreme poverty?
Financial and Market Integration of Vulnerable People provides examples of some promising solutions including the 'push–pull' model for value chain integration,, innovation in financial product design, cash transfers and graduation models, indigenous stewardship of local resources, and vouchers for smallholder agricultural technologies.
This book is important reading for policy makers, programme implementers, ,researchers, and students of international development.

1. Introduction: integrating vulnerable people into financial and market systems

Linda Jones

2. The G2P opportunity: five reasons why now is the time to leverage social protection to enable financial inclusion and savings among the poorest

Jamie M. Zimmerman and Jamie Holmes

3. Myths, misconceptions, and the emerging truth in serving very poor households: Grameen Foundation's experience to date

Kate Druschel Griffin and Malini Tolat

4. Inclusive microfinance: reaching disabled people through partnership development

Anne Leymat

5. Barriers to microcredit for disabled persons: evidence from economically active persons in Uganda

Leif Atle Beisland and Roy Mersland

6. Value chain development for rural poverty reduction: a reality check and a warning

Dietmar Stoian, Jason Donovan, John Fisk and Michelle F. Muldoon

7. Catalysts of agricultural supply markets: the case for smart subsidies in Zambia

Alexandra Snelgrove and Lemme Manje

8. Bringing together push and pull through local entrepreneurs: case study From Tanzania Sally Walkerman

9. Making markets work for women: how push and pull strategies can support women's economic empowerment

Christine Faveri

10. Whose vision counts? The formulation of vision in community forest enterprises

Hiroyuki Tanaka

11. Can the poorest be helped by any of our current models of economic development?

Ben Fowler and Linda Jones

12. Conclusions: the way ahead for including the poorest
'In Financial and Market Integration of Vulnerable People Linda Jones brings a breadth of thinking from a number of authors to engage on how the poorest can be served by market systems development and inclusive financial services. She lays out a challenge for practitioners to take sustainable approaches to work with the most vulnerable. It is up to the reader to act on the important analysis she and others have provided.'
Dan Norell, Senior Technical Advisor, Economic Development, World Vision

'Everyone committed to understanding issues of vulnerability worldwide should read this book.'
Dr David Lawson, University of Manchester

Linda Jones Linds Jones is Vice President Partnerships and Innovation, MEDA