Book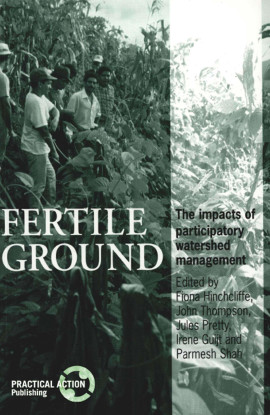 Fertile Ground addresses presents the findings of the first formal study and in-depth research into the impacts of participatory watershed management in a wider range of agroecological and socioeconomic settings in Africa, Asia, Australia and Latin America. The Sustainable Agricultural and Rural Livelihoods Programme of the International Institute for Environment and Development (IIED) has, through its collaborative research programme, New Horizons, worked with a diverse group of organizations engaged in the development, implementation, monitoring and evaluation of participatory watershed management and soil and water conservation projects and programmes. The twenty-three case studies provide compelling evidence of the importance of local people's involvement in natural resource planning and management and reveal how difficult it is to scale-up and institutionalize participatory approaches in large, sector-based programmes, particularly in government bureaucracies. The collection provides an analysis of the biophysical, socioeconomic and institutional impacts of development and management practices and to point to practicable and realistic ways forward for both governments and external support agencies.
FOREWORD by Francis Shaxson xi

PREFACE xv

Overviews

1. Soil and Water Conservation: A Brief History of Coercion

and Control 1

Jules Pretty and Parmesh Shah

2. Sustainability Indicators for Analysing the Impacts

of Participatory Watershed Management Programmes 13

John Thompson and Irene Guijt

Resource-conserving Technologies and Practices: Farmer

innovation and adaptation 27

Overview 29

3. Soil Recuperation in Central America: How Innovation

was Sustained after Project Intervention 32

Roland Bunch and Gabind Lopez

4. Continuous Adaptation for Soil and Water Conservation:

The case of PATECORE in Burkina Faso 42

Dietmar Schorlemer

5. Participatory Technology Development in Southern India:

Improving Rainfed Agriculture 48

Kennedy N. Igbokwe, Romy San Buenaventura,

Carlos Basilio, Scott Killough, Neelkant Pandhare and

Ramanchandrappa

6. Participatory Technology Development for Watershed

Management in Leyte, The Philippines 62

Edwin A. Balbarino and Dolores L. Alcober

7. The Impact of Technology Adaptation on Productivity and

Sustainability: MYRADA's Experiences in Southern India 75

Aloysius P. Fernandez

8. Participatory Upland Agro-ecosystem Management in

Bicol, The Philippines 90

Jit P. Bhuktan, Carlos S. Basilio, Scott I. Killough,

Ma. Francia L. de los Reyes, Samuel C. Operio and

Rico V. Locaba

Enabling Government Programmes 107

Overview 109

9. Transforming Micro-catchments in Santa Catarina, Brazil 114

Valdemar Hercilio de Freitas

10. Impacts of the Catchment Approach to Soil and

Water Conservation: Experiences of the Ministry of

Agriculture, Kenya 130

J.K. Kiara, L.S. Munyikombo, L.S. Mwarasomba,

Jules Pretty and John Thompson

11. Large-scale Government Programmes: Watershed

Development in Rajasthan, India 143

Anirudh Krishna

12. A New Approach for Government: The Doon Valley

Integrated Watershed Management Project,

Uttar Pradesh, India 157

K.C. Thapliyal, S.T.S. LepchaandP. Kumar

13. The Impact of the Begnas Tal/ Rupa Tal Watershed

Management Project, Pokhara, Nepal 164

Mohan P. Wagley

14. Subsidies in Watershed Development Projects in India:

Distortions and Opportunities 178

John M. Kerr, N.K. Sanghi and G. Sriramappa

15. The Policy Landscape and Prospects of Landcare 194

Andrew Campbell and Jim Woodhill

16. Regional Initiatives in Southern Africa to Put Farmers

First in Soil Conservation 209

Mikael Segerros

NGO-led Transformations 217

Overview 219

17. Converting Irrigation Tanks Into Percolation Tanks in

South India: A Case-study of Social Organization Leading

to Equitable Development 223

P. Gangi Reddy, G. Sriramappa, J.C. Katyal, N.K. Sanghi,

John M. Kerr and Ramesh Chakravorthy

vi

18. Farmer-based Extension for Watershed Development: The

Case of Mag-uugmad, The Philippines 236

Lapulapu L. Cerna, Leonardo A. Moneva,

Wilfredo M. Listones and Efren C. Gerardino

19. Kasare - A Saga of a People's Faith: A Case-study of

Participatory Watershed Management 247

Crispino hobo and Thomas Palghadmal

20. Scaling-up Soil and Water Conservation Efforts in

Chotanagpur Plateau, Eastern India 259

Jaya Chatterji, Prashant Kumar Das,

Sandeep Chakravarty, Hardeep Singh and R.P. Agarwal

21. Matching Participatory Agricultural Development with

the Social Landscape of Northeast Brazil 273

Irene Guijt and Pablo Sidersky

Local Capacity and Institutional Innovation 289

Overview 291

22. Equity, Local Groups and Credit: Lessons from

MYRADA's Work in South India 295

Aloysius P. Fernandez

23. Institutional Strengthening for Watershed Development:

The case of the Aga Khan Rural Support Programme

(AKRSP) in India 309

Parmesh Shah and Meera Kaul Shah

24. Watershed and Community Development in Tamil Nadu,

India 324

John Devavaram, Erskine Arunothayam,

Rajendra Prasad and Jules Pretty

25. The Impact of the Mangla Watershed Management

Project, Pakistan 332

Shahid Ahmad and Javed Ahmed

26. Local Conservation Action in Western Australia 340

Andrew Campbell, Phil Grice and Justin Hardy

27. The Challenges of Change for the West Hume Landcare

Group 354

Jim Woodhill, Judy Frankenberg and Paul Trevethan

Summary 369

28. Towards New Horizons: Implications for Joint

Watershed Development and Challenges for the Future 371

REFERENCES 375
John Thompson John Thompson is a Research Fellow at the Institute of Development Studies, University of Sussex.
Irene Guijt Irene Guijt is an independent consultant, Visiting Fellow at the Department of Forestry at ANU, Research Associate for the International Institute for Environment and Development in London and Research Associate for Overseas Development Institute.
Agroecosystems Analysis
Community Dynamics and Social Capital
Flora, Cornelia Butler
2016
https://doi.org/10.2134/agronmonogr43.c7
[Citations: 9]
Reducing food poverty by increasing agricultural sustainability in developing countries
Pretty, J.N
Morison, J.I.L
Hine, R.E
Agriculture, Ecosystems & Environment, Vol. 95 (2003), Iss. 1 P.217
https://doi.org/10.1016/S0167-8809(02)00087-7
[Citations: 245]
Laying a solid foundation for sustainable development in Bolivian mountain villages
Kessler, C. A.
Environment, Development and Sustainability, Vol. 10 (2008), Iss. 2 P.233
https://doi.org/10.1007/s10668-006-9062-3
[Citations: 5]
Multi-year assessment of Unilever's progress towards agricultural sustainability I: indicators, methodology and pilot farm results
Pretty, J.
Smith, G.
Goulding, K. W.T.
Groves, S. J.
Henderson, I.
Hine, R. E.
King, V.
van Oostrum, J.
Pendlington, D. J.
Vis, J. K.
Walter, C.
International Journal of Agricultural Sustainability, Vol. 6 (2008), Iss. 1 P.37
https://doi.org/10.3763/ijas.2007.0322
[Citations: 35]
Soil Fertility Management for Sustainable Development
Strategies to Improve Agriculture Sustainability, Soil Fertility and Enhancement of Farmers Income for the Economic Development
Verma, Priyanka
Singh, Dheer
Pathania, Ishwar Prasad
Aggarwal, Komal
2019
https://doi.org/10.1007/978-981-13-5904-0_4
[Citations: 2]
Partnerships between local governments and community-based organisations: exploring the scope for synergy
Krishna, Anirudh
Public Administration and Development, Vol. 23 (2003), Iss. 4 P.361
https://doi.org/10.1002/pad.280
[Citations: 41]
Soil and water conservation projects and rural livelihoods: options for design and research to enhance adoption and adaptation
McDonald, M.
Brown, K.
Land Degradation & Development, Vol. 11 (2000), Iss. 4 P.343
https://doi.org/10.1002/1099-145X(200007/08)11:4<343::AID-LDR397>3.0.CO;2-Z
[Citations: 19]
Social Capital in Biodiversity Conservation and Management
PRETTY, JULES
SMITH, DAVID
Conservation Biology, Vol. 18 (2004), Iss. 3 P.631
https://doi.org/10.1111/j.1523-1739.2004.00126.x
[Citations: 358]
Women, Equity and Participatory Water Management in Brazil
Moraes, Andrea
Perkins, Patricia E.
International Feminist Journal of Politics, Vol. 9 (2007), Iss. 4 P.485
https://doi.org/10.1080/14616740701607986
[Citations: 12]
Agricultural sustainability assessment framework integrating sustainable development goals and interlinked priorities of environmental, climate and agriculture policies
Streimikis, Justas
Baležentis, Tomas
Sustainable Development, Vol. 28 (2020), Iss. 6 P.1702
https://doi.org/10.1002/sd.2118
[Citations: 17]
The practice of participatory research and gender analysis in natural resource management
Johnson, Nancy
Lilja, Nina
Ashby, Jacqueline A.
Garcia, James A.
Natural Resources Forum, Vol. 28 (2004), Iss. 3 P.189
https://doi.org/10.1111/j.1477-8947.2004.00088.x
[Citations: 69]
Local institutions and natural resource management in the South Tongu District of Ghana: a case study
Koku, John E.
Gustafsson, Jan-Erik
Sustainable Development, Vol. 11 (2003), Iss. 1 P.17
https://doi.org/10.1002/sd.201
[Citations: 15]
Integrating Ecology and Poverty Reduction
Landscape Approaches to Achieving Food Production, Natural Resource Conservation, and the Millennium Development Goals
Milder, Jeffrey C.
Buck, Louise E.
DeClerck, Fabrice
Scherr, Sara J.
2012
https://doi.org/10.1007/978-1-4419-0633-5_5
[Citations: 12]
The resilience and sustainability of local wetland management institutions in Illubabor and Western Wellega, Ethiopia
Dixon, Alan B.
Singapore Journal of Tropical Geography, Vol. 29 (2008), Iss. 3 P.341
https://doi.org/10.1111/j.1467-9493.2008.00343.x
[Citations: 8]
A Bayesian method to support global out-scaling of water-efficient rice technologies from pilot project areas
Rubiano M., Jorge E.
Cook, Simon
Rajasekharan, Maya
Douthwaite, Boru
Water International, Vol. 41 (2016), Iss. 2 P.290
https://doi.org/10.1080/02508060.2016.1138215
[Citations: 6]
Creating local institutional arrangements for sustainable wetland socio-ecological systems: lessons from the 'Striking a Balance' project in Malawi
Dixon, Alan
Carrie, Rachael
International Journal of Sustainable Development & World Ecology, Vol. 23 (2016), Iss. 1 P.40
https://doi.org/10.1080/13504509.2015.1107861
[Citations: 12]
The Challenges of Inclusive Cross-Scale Collective Action in Watersheds
Swallow, Brent
Johnson, Nancy
Meinzen-Dick, Ruth
Knox, Anna
Water International, Vol. 31 (2006), Iss. 3 P.361
https://doi.org/10.1080/02508060608691938
[Citations: 20]
Jousting with Malthus' ghost: Environment and conflict after the cold war
Dalby, Simon
Geopolitics, Vol. 5 (2000), Iss. 1 P.165
https://doi.org/10.1080/14650040008407673
[Citations: 4]
Poverty elimination, North-South research collaboration, and the politics of participatory development
Simon, David
McGregor, Duncan
Nsiah-Gyabaah, Kwasi
Thompson, Donald
Development in Practice, Vol. 13 (2003), Iss. 1 P.40
https://doi.org/10.1080/0961452022000037973
[Citations: 18]
Worlds apart? Challenges of multi-agency partnership in participatory watershed development in Rajasthan, India
Gupta, Saurabh
Development Studies Research, Vol. 1 (2014), Iss. 1 P.100
https://doi.org/10.1080/21665095.2014.938088
[Citations: 5]