Book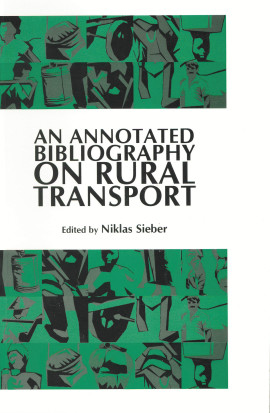 An Annotated Bibliography on Rural Transport
Published: 1997
Pages: 128

eBook: 9781780444505
Paperback: 9781853394188
Rural transport in developing countries has received increasing attention in development policy, and research and field experience has generated a number of books, articles and documents from organizations working in a variety of locations throughout the developing world. The International Forum for Rural Transport and Development and the International Labour Organisation have collected and annotated details of well over 100 of these books and documents. Information is also given on where to acquire or gain access to much of this material, including some of the most interesting and significant work which exists in unpublished and inaccessible form. The present book brings together the abstracts of a selection of relevant documents on a number of transport-related areas, namely, infrastructure, intermediate means of transport, transport services, policy and institutional issues, financial and planning issues and gender issues.
1. Rural Transport Infrastructure

2. Intermediate Means of Transport

3. Animal Power

4. Rural Transport Services

5. Rural Transport Planning

6. Financial and Institutional Issues

7. Transport and Development

8. Gender and Transport

9. Miscellanea

10. Promotional Material

11. How to Obtain the Documents
Niklas Sieber Niklas Sieber is a transport economist, regional planner, university lecturer, freelance consultant and deputy managing director for TCP International.
Reflections on a century of road transport developments in West Africa and their (gendered) impacts on the rural poor
Porter, Gina
(2012)
https://doi.org/10.4000/echogeo.13116
[Citations: 8]