Book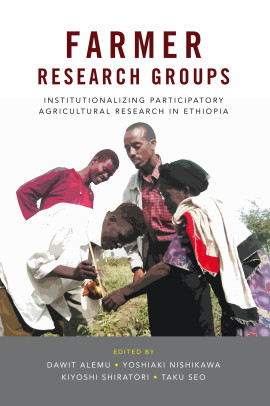 It has long been recognized that agricultural research should involve the farmers themselves. Participatory agricultural research methods have been developed to help farmers and researchers to identify the most appropriate technologies and techniques for a particular area. However, mainstreaming this collaborative approach within government research institutions and extension services has lagged behind. This book describes the Farmers Research Group (FRG) approach
by which a multi-disciplinary research team, extension workers and groups of farmers jointly conduct research on selected topics based on farmers' needs, on farmers' fields. It also documents the process of institutionalizing the approach within the Ethiopian Agricultural Research Systems including universities.
Farmer Research Groups reviews the history of participatory agricultural research, particularly in Ethiopia. It introduces cases of research conducted by FRGs in Ethiopia – both successful and less successful – and describes how issues of research quality, technology dissemination, effectiveness and efficiency are dealt with. Finally, it summarizes the lessons learned and indicates how participatory agricultural research might be applied in sub-Sahara Africa.
This book is essential reading for agricultural researchers, extension workers and agricultural policy makers in government departments, universities, research institutions and NGOs, as well as students and lecturers studying participatory methodologies.
1 Introduction: institutionalizing participatory approaches in Ethiopia's agricultural research system

Kiyoshi Shiratori and Dawit Alemu

Part I The need for Farmer Research Groups in Ethiopia

2 Overview of Farmer Research Group-based participatory research in Ethiopia

Dawit Alemu and Kiyoshi Shiratori

3 FRG-based approach implementation processes: guidelines, training and research

Taku Seo

Part II Experiences of Farmer Research Groups

4 Engaging farmers in technology evaluation and promotion: Farmer Research Groups on common beans in the Central Rift Valley, Ethiopia

Endeshaw Habte, Kidane Tumsa, Berhanu Amsalu Fenta, and Abiy Tilahun

5 Lowering teff seeding rate using a seed spreader via the participatory approach in South Ethiopia

Fanuel Laekemariam, Gifole Gidago and Wondemeneh Taye

6 Participatory evaluation of selected fish processing and preservation technologies: the case of Lake Tana, Ethiopia

Shewit Gebremedhin, Markos Budusa, Adamu Yimer, Minwyelet Mingist, Dereje Tewabe and Zurihun Nigussie

7 Participatory evaluation of farmer-saved and purified seed for improved agronomic performance: wheat, South eastern Tigray

Alem G/tsadik, Kelali Haftu, Yoshiaki Nishikawa, Ibrahim Fitiwy and Taku Seo

8 Improved dairy production and changing gender roles: experience of smallholder FRGs in Melkassa, Central Rift Valley

Bedru Beshir

9 Farmers' perceived benefits of FRG-based research: the case of selected FRG-based research activities

Shingo Takeda

Part III Institutionalizing Farmer Research Groups in Ethiopia

10 The participatory approach and FRG: the institutionalization process within the Ethiopian agricultural research system

Dawit Alemu and Kiyoshi Shiratori

11 The challenges of FRG-based research: attitudes, capacity and institutional arrangements

Dawit Alemu, Taku Seo, Terutaka Niide, Shingo Takeda, Kiyoshi Shiratori and Yoshiaki Nishikawa

12 Applying the FRG approach in agricultural extension: lessons from the Farmers Research and Extension Group approach

Belay Kassa and Dawit Alemu

Part IV Conclusion

13 Conclusion: Recommendations for strengthening the responsiveness of agricultural research systems

Dawit Alemu, Kiyoshi Shiratori, Taku Seo, and Yoshiaki Nishikawa

Index
Dawit Alemu Dawit Alemu is is a senior researcher and Director of Agricultural Economics, Extension and Gender Research Program at the Ethiopian Institute of Agricultural Research.
Yoshiaki Nishikawa Yoshiaki Nishikawa is s Professor of agricultural and resource economics at Ryukoku University, Japan.
Kiyoshi Shiratori Kiyoshi Shiratori is a Senior consultant of Kaihatsu Management Consulting, Inc.
Taku Seo Taku Seo works for Japan International Cooperation Agency, a governmental technical cooperation