Book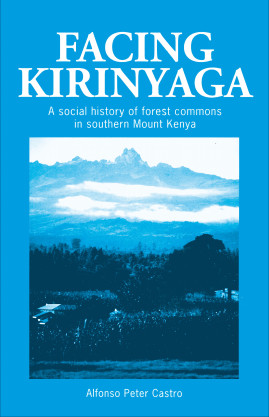 Facing Kirinyaga
A social history of forest commons in southern Mount Kenya
Published: 1995
Pages: 168

eBook: 9781780444918
Paperback: 9781853392535
Examines the management and use of common-property forests, groves and trees on southern Mount Kenya, demonstrating the long-standing relationships between Kenyans and their forest resources - and the connections between anthropology and forestry. This book is published in the IT Studies in Indigenous Knowledge and Development series.
PREFACE vii

1 Introduction 1

2 An Introduction to Farmer Participatory Research 13

3 Associated Themes and Concepts 26

4 Farmer Participatory Research in Practice 47

5 Key Issues in Implementation 71

6 Analysis of Current Trends and Practice 93

7 Monitoring and Evaluation 119

8 Future Directions: linking evaluation indicators to project design 127

REFERENCES 137
A. Peter Castro
Professor Castro is Associate Professor of Anthropology in the Maxwell School of Citizenship and Public Affairs at Syracuse University in Syracuse, New York, USA.
Common Heritage, Diverse Interests: Deforestation and Conservation Alternatives for Mount Kenya
Kariuki, Joseph
Cahiers d'Outre-Mer, Vol. 59 (2006), Iss. 235 P.347
https://doi.org/10.4000/com.112
[Citations: 3]
Deforestation and democratization: patronage, politics and forests in Kenya
Klopp, Jacqueline M.
Journal of Eastern African Studies, Vol. 6 (2012), Iss. 2 P.351
https://doi.org/10.1080/17531055.2012.669577
[Citations: 29]
Revisiting the roots of Gĩkũyũ culture through the sacredMũgumotree
Karangi, Matthew M.
Journal of African Cultural Studies, Vol. 20 (2008), Iss. 1 P.117
https://doi.org/10.1080/13696810802159339
[Citations: 18]
A Guidebook for Integrated Ecological Assessments
Assessing Human Processes in Society: Environment Interactions
Campbell, David J.
2001
https://doi.org/10.1007/978-1-4419-8620-7_29
[Citations: 0]
Natural cultural sites of Kenya: changing contexts, changing meanings
Nyamweru, Celia
Journal of Eastern African Studies, Vol. 6 (2012), Iss. 2 P.270
https://doi.org/10.1080/17531055.2012.669574
[Citations: 7]