Book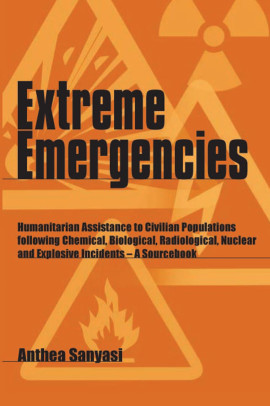 Extreme Emergencies
Humanitarian assistance to civilian populations following chemical, biological, radiological, nuclear and explosive incidents -- a sourcebook
Published: 2004
Pages: 240

eBook: 9781780444901
Paperback: 9781853396021
This comprehensive and detailed sourcebook offers humanitarian organizations, for the first time, essential information on how to prepare for the key man-made disasters which they have to face in an ever more dangerous world.

The possibility of a chemical, biological, radiological, nuclear or enhanced explosive (CBRNE) disaster has never been greater. Extreme Emergencies will be an essential tool in helping agencies plan and prepare for the worst case.

Researched by staff from the UK medical relief agency Merlin, the book draws together key international expertise and experience. It explains emergency planning, management and safety issues; gives guidance on the range of hazards, their characteristics, clinical effects and required treatment; and offers detailed resource information on equipment, training issues and relevant support organizations.
Preface. Acknowledgements. List of figures, boxes and tables. List of acronyms.

INTRODUCTION

CBRNE - A new security risk. Past and current events of CBRNE catastrophic incidents. Enhancing awareness and preparedness for CBRNE incidents. Potential role of humanitarian aid organizations. Introduction to the Sourcebook

PART I – MANAGING THE CRISIS

STRATEGIC MANAGEMENT: NGO objectives; Key considerations; Key policy issues at headquarter and field levels; Personnel issues – protection of front line staff; Disaster Management Strategy.

TACTICAL MANAGEMENT: Field operation vulnerabilities; Hazard vulnerability analysis and risk reduction measures; Threat assessment and risk policy strategy; Horizon scanning, surveillance and advisory mechanisms; Risk management tools; Information coordination mechanisms.

FIELD STAFF SAFETY: Incident emergency response; Risk assessment and staff safety; Creation of a safe room; Re-entry; Individual emergency decontamination.

OPERATIONAL MANAGEMENT: Planning assumptions; Field response procedures; The incident response phase; Incident response procedures; Zones for emergency response operations; Medical assistance and casualty management; Humanitarian relief and assistance; NGO operation management actions; Disaster relief priorities; Humanitarian organization coordination.

PSYCHOSOCIAL SUPPORT: Chemical and biological threat; Post attack; Syndromes; Staff care; Mental health interventions.

PART II – HAZARDS: CBRNE hazards; Key chemical agents; Key biological agents; Radiation and nuclear incidents; Explosive incidents

PART III – RESOURCES: Detection and monitoring devices; Personal protection equipment; Medical countermeasures; Medical protocols for key chemical agents; Decontamination procedures; Medical protocols for key biological agents; Civil nuclear site incidents; Training and capacity building ; Directory of organizations and conventions; Quick reference cards.

References. Internet references and CBRNE related links. Endnotes. Glossary. Index.
Anthea Sanyasi
Anthea Sanyasi is a researcher in chemical, biological, radiological, nuclear and explosive incidents, and a former humanitarian affairs adviser and information specialist with the UK Department for International Development.