Book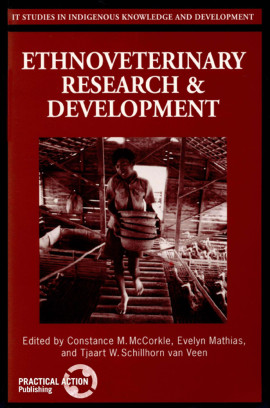 From sociocultural, political-economic, and environmental as well as biomedical viewpoints, the book presents reviews and case studies of traditional veterinary knowledge and practice, along with historical perspectives, theoretical discussions and research methodologies. The 23 chapters span 10 major species of animal domesticates raised by more than 80 ethnic groups in nearly 40 nations of Africa, Asia, Europe, and the Americas, covering nearly 100 diseases and more than 300 medicinal plants and other traditional materia medica. Provides researchers, development professionals, and policymakers working in agricultural and rural development with insights,ideas and approaches to the subject. Published in the Indigenous Knowledge and Development series.
1. Introduction: Ethnoveterinary Research and Development 1

EVELYN MATHIAS, CONSTANCE M. McCORKLE AND

TJAART SCH1LLH0RN VAN VEEN

PART I PERSPECTIVES ON ETHNOVETERINARY R&D

2. Sense or Nonsense? Traditional Methods of Animal Disease

Prevention and Control in the African Savannah 25

TJAART W. SCH1LLH0RN VAN VEEN

3. Ancient and Modern Veterinary Beliefs, Practices and Practitioners

among Nile Valley Peoples 37

CALVIN W. SCHWABE

4. Recourse to Traditional Versus Modern Medicine for Cattle and

People in Sidama, Ethiopia 46

MAURO GHIROTTI

5. Ethnotoxicology among Nigerian Agropastoralists 54

MAMMAN A. IBRAHIM

6. / Stand for My Horse: Equine Husbandry and Healthcare among

some North American Indians 60

ELIZABETH ATWOOD LAWRENCE

1. Tradition and Modernity: French Shepherds' Use of Medicinal

Bouquets 76

ANNE-MARIE BRISEBARRE

8. The Interpenetration of Endogenous and Exogenous in Saami

Reindeer Raising 91

MYRDENE ANDERSON

PART II CASE STUDIES IN ETHNOVETERINARY R&D

9. Ethno-agroveterinary Perspectives on Poultry Production in

Rural Nigeria 103

MAMMAN A. IBRAHIM AND PAUL A. ABDU

10. Madosha: Traditional Castration of Bulls in Ethiopia 116

MAURO GHIROTTI AND MULATU WOUDYALEW

11. Aspects of Animal Healthcare among Samburu Pastoralists 121

CLAIRE HEFFERNAN, ELLEN HEFFERNAN AND CHIP STEM

12. Traditional Management of Camel Health and Disease in North

Africa and India 129

ILSE KOHLER-ROLLEFSON

13. Ethnoveterinary Pharmacology in India: Past, Present and Future 137

JAYVIR ANJARIA

14. Ethnoveterinary Medicine in Western India 148

JITENDRA K. MALIK, ASWIN M. THAKER AND

ALLAUDDIN AHMAD

15. Banjarese Management of Duck Health and Nutrition 158

PATRICIA J. VONDAL

16. Sheep Husbandry and Healthcare among Tzotil

Maya Shepherdesses 167

RAUL PEREZGROVAS

17. Care of Cattle Versus Sheep in Ireland: South-west Donegal

in the Early 1970s 179

EUGENIA SHANKLIN

PART III METHODS AND APPLICATIONS OF

ETHNOVETERINARY R&D

18. Ethnoveterinary R&D in Production Systems 193

CHIP STEM

19. Collection and Use of Ethnoveterinary Data in Community-based

Animal Health Programmes 207

BARBARA E. GRANDIN AND JOHN YOUNG

20. Methods and Results from a Study of Local Knowledge of Cattle

Diseases in Coastal Kenya 229

JAMES DELEHANTY

21. Veterinary Science and Savvy among the Ferlo FulBe 246

ANGELO-MALIKI BONFIGLIOLI AND YERO D. DIALLO WITH

SONJA FAGERB ERG -DIALLO

22. Traditional and Re-applied Veterinary Medicine in East Africa 256

DEAN A. ROEPKE

23. Field Trials in Ethnoveterinary R&D: Lessons from the Andes 265

CONSTANCE M. McCORKLE AND HERNANDO BAZALAR

References 284

Abbreviations and Acronyms 323

Index 325
Constance McCorkle Constance McCorkle is currently Senior Research Scientist and President of CMC Consultants.
Evelyn Mathias Evelyn Mathias holds a Dr med vet degree (the German equivalent of a PhD) from the University of Giessen, and an MS in international development studies from Iowa State University. She has conducted research and published widely on traditional veterinary medicine.
Phytochemical Analysis, Elemental Determination and Some in vitro Antibacterial Activity of Ocimum basilicum L. Leaf Extracts
Sanni, S.
Onyeyili, P.A.
Sanni, F.S.
Research Journal of Phytochemistry, Vol. 2 (2008), Iss. 2 P.77
https://doi.org/10.3923/rjphyto.2008.77.83
[Citations: 9]
Ethnopharmacological survey of Samburu district, Kenya
Nanyingi, Mark O
Mbaria, James M
Lanyasunya, Adamson L
Wagate, Cyrus G
Koros, Kipsengeret B
Kaburia, Humphrey F
Munenge, Rahab W
Ogara, William O
Journal of Ethnobiology and Ethnomedicine, Vol. 4 (2008), Iss. 1
https://doi.org/10.1186/1746-4269-4-14
[Citations: 77]
A Companion to Medical Anthropology
Syndemics in Global Health
Singer, Merrill
Herring, D. Ann
Littleton, Judith
Rock, Melanie
2011
https://doi.org/10.1002/9781444395303.ch8
[Citations: 17]
Ethnoveterinary medicines for cattle (Bos indicus) in Bulamogi county, Uganda: plant species and mode of use
Tabuti, John R.S
Dhillion, Shivcharn S
Lye, Kaare A
Journal of Ethnopharmacology, Vol. 88 (2003), Iss. 2-3 P.279
https://doi.org/10.1016/S0378-8741(03)00265-4
[Citations: 63]
Livestock and Livelihoods: Who Wins and Who Loses?
McCorkle, Constance M.
Culture <html_ent glyph="@amp;" ascii="&amp;"/> Agriculture, Vol. 26 (2004), Iss. 1-2 P.53
https://doi.org/10.1525/cag.2004.26.1-2.53
[Citations: 0]
The International Encyclopedia of Anthropology
Ethnoveterinary Knowledge and Practices
Lans, Cheryl A.
2019
https://doi.org/10.1002/9781118924396.wbiea2395
[Citations: 0]
Veterinary Epidemiology
References
2018
https://doi.org/10.1002/9781118280249.refs
[Citations: 0]
Ethnoveterinary of Sahrawi pastoralists of Western Sahara: camel diseases and remedies
Volpato, Gabriele
Lamin Saleh, Saleh Mohamed
Di Nardo, Antonello
Journal of Ethnobiology and Ethnomedicine, Vol. 11 (2015), Iss. 1
https://doi.org/10.1186/s13002-015-0040-4
[Citations: 20]
Four Footed Pharmacists: Indications of Self-Medicating Livestock in Karamoja, Uganda
Gradé, J. T.
Tabuti, John R. S.
Van Damme, Patrick
Economic Botany, Vol. 63 (2009), Iss. 1 P.29
https://doi.org/10.1007/s12231-008-9058-z
[Citations: 33]
Chenopodium ambrosioides and its essential oil as treatments for Haemonchus contortus and mixed adult-nematode infections in goats
Ketzis, J.K
Taylor, A
Bowman, D.D
Brown, D.L
Warnick, L.D
Erb, H.N
Small Ruminant Research, Vol. 44 (2002), Iss. 3 P.193
https://doi.org/10.1016/S0921-4488(02)00047-0
[Citations: 50]
Ethnobotany of the Samburu of Mt. Nyiru, South Turkana, Kenya
Bussmann, Rainer W
Journal of Ethnobiology and Ethnomedicine, Vol. 2 (2006), Iss. 1
https://doi.org/10.1186/1746-4269-2-35
[Citations: 262]
In vitro nematicidal activity of plant species possessing alkaloids and tannins
Fomum, Sylvester W.
Nsahlai, Ignatius V.
González-Redondo, Pedro
Cogent Food & Agriculture, Vol. 3 (2017), Iss. 1 P.1334295
https://doi.org/10.1080/23311932.2017.1334295
[Citations: 4]
Participatory Epidemiology of Ethnoveterinary Practices Fulani Pastoralists Used to Manage Contagious Bovine Pleuropneumonia and Other Cattle Ailments in Niger State, Nigeria
Alhaji, N. B.
Babalobi, O. O.
Journal of Veterinary Medicine, Vol. 2015 (2015), Iss. P.1
https://doi.org/10.1155/2015/460408
[Citations: 12]
In vivo effect of selected medicinal plants against gastrointestinal nematodes of sheep
Ahmed, Mawahib
Laing, Mark D.
Nsahlai, Ignatius V.
Tropical Animal Health and Production, Vol. 46 (2014), Iss. 2 P.411
https://doi.org/10.1007/s11250-013-0506-0
[Citations: 15]
Similarities between Human and Livestock Illnesses among the Luo in Western Kenya
Nyamanga, Peter A.
Suda, Collette
Aagaard-Hansen, Jens
Anthropology & Medicine, Vol. 13 (2006), Iss. 1 P.13
https://doi.org/10.1080/13648470500516220
[Citations: 6]
Ethnoveterinary medicine in Africa
McCorkle, Constance M.
Mathias-Mundy, Evelyn
Africa, Vol. 62 (1992), Iss. 1 P.59
https://doi.org/10.2307/1160064
[Citations: 45]
Diabetes in People, Cats, and Dogs: Biomedicine and Manifold Ontologies
Rock, Melanie
Babinec, Patricia
Medical Anthropology, Vol. 27 (2008), Iss. 4 P.324
https://doi.org/10.1080/01459740802427091
[Citations: 19]
Can epidemiology and economics make a meaningful contribution to national animal-disease control?
Perry, Brian
McDermott, John
Randolph, Tom
Preventive Veterinary Medicine, Vol. 48 (2001), Iss. 4 P.231
https://doi.org/10.1016/S0167-5877(00)00203-8
[Citations: 32]
In vitro screening for cestocidal activity of three species of Cassia plants against the tapeworm Raillietina tetragona
Kundu, S.
Lyndem, L.M.
Journal of Helminthology, Vol. 87 (2013), Iss. 2 P.154
https://doi.org/10.1017/S0022149X12000156
[Citations: 11]
Caste, livelihoods and livestock: An exploration of the uptake of livestock vaccination adoption among poor farmers in India
Heffernan, Claire
Thomson, Kim
Nielsen, Louise
Journal of International Development, Vol. 23 (2011), Iss. 1 P.103
https://doi.org/10.1002/jid.1643
[Citations: 15]
Field assessment of the efficacy of Tephrosia vogelii leaf extracts for control of ticks on naturally infested cattle in the field condition
Siame, Christopher P.
Chitambo, Harrison
Muma, John Bwalya
Choongo, Kennedy
Moonga, Elder
Journal of Parasitic Diseases, Vol. 43 (2019), Iss. 4 P.624
https://doi.org/10.1007/s12639-019-01141-3
[Citations: 2]
Current evidence for self-medication in primates: A multidisciplinary perspective
Huffman, Michael A.
American Journal of Physical Anthropology, Vol. 104 (1997), Iss. S25 P.171
https://doi.org/10.1002/(SICI)1096-8644(1997)25+<171::AID-AJPA7>3.0.CO;2-7
[Citations: 158]
In vivo validation of Aloe ferox (Mill). Elephantorrhiza elephantina Bruch. Skeels. and Leonotis leonurus (L) R. BR as potential anthelminthics and antiprotozoals against mixed infections of gastrointestinal nematodes in goats
Maphosa, Viola
Masika, Patrick J.
Parasitology Research, Vol. 110 (2012), Iss. 1 P.103
https://doi.org/10.1007/s00436-011-2455-8
[Citations: 21]
Ethnoveterinary plant preparations as livestock dewormers: practices, popular beliefs, pitfalls and prospects for the future
Githiori, John B.
Höglund, Johan
Waller, Peter J.
Animal Health Research Reviews, Vol. 6 (2005), Iss. 1 P.91
https://doi.org/10.1079/AHR2005099
[Citations: 36]
Medicinal plants used for dogs in Trinidad and Tobago
Lans, Cheryl
Harper, Tisha
Georges, Karla
Bridgewater, Elmo
Preventive Veterinary Medicine, Vol. 45 (2000), Iss. 3-4 P.201
https://doi.org/10.1016/S0167-5877(00)00123-9
[Citations: 42]
Ethnoveterinary medicines used for ruminants in Trinidad and Tobago
Lans, Cheryl
Brown, Gabriel
Preventive Veterinary Medicine, Vol. 35 (1998), Iss. 3 P.149
https://doi.org/10.1016/S0167-5877(98)00066-X
[Citations: 28]
Medicinal Plants Used to Treat Livestock Ailments in Honduras
Ketzis, Jennifer K.
Brown, Dan L.
Journal of Herbs, Spices & Medicinal Plants, Vol. 10 (2003), Iss. 1 P.55
https://doi.org/10.1300/J044v10n01_07
[Citations: 5]
Potential of Traditional Knowledge of Plants in the Management of Arthropods in Livestock Industry with Focus on (Acari) Ticks
Wanzala, Wycliffe
Evidence-Based Complementary and Alternative Medicine, Vol. 2017 (2017), Iss. P.1
https://doi.org/10.1155/2017/8647919
[Citations: 64]