Book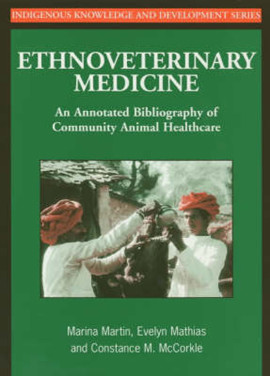 This volume contains some 700 abstracts from around the world relating to peoples animal healthcare, otherwise known as ethnoveterinary medicine. Each abstract, many of the substantial, contains where possible detail of the livestocks disease, the name of the treatment, its method of preparation and administration. The abstracts cover the treatment of animals in 115 countries. The bibliography is aimed at all involved or interested in ethnoveterinary medicine: botanists, animal production professionals, veterinarians, anthropologists, social scientists, rural development professionals and anyone interested in Indigenous Knowledge. This book replaces ethnoveterinary medicine: An annotated bibliography, which was originally published in 1989 as the premier sourcebook in its field and will be of great use and interest to many active in the Indigenous Knowledge field.
9781780441146.000 (page 1)
9781780441146.001 (page 48)
9781780441146.002 (page 574)

Marina Martin
Marina Martin has conducted ethnoveterinary research in Nigeria and Tanzania. Currently, she is employed by VETAID, a livestock development NGO based in Scotland.