Book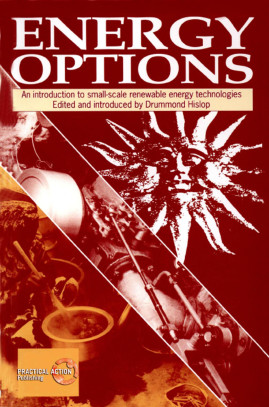 Energy Options
An introduction to small-scale renewable energy technologies
Published: 1992
Pages: 120

eBook: 9781780444864
Paperback: 9781853390821
Renewable energy can present a baffling array of options to aid agency managers, government officials, and advisers. This publication contrasts the relative merits of biomass, solar, hydro, and wind power, as well as detailing some direct applications.
Preface vii

1 INTRODUCTION 1

The increasing demand for energy 1

The role of renewables 3

Renewable versus non-renewable - some issues 8

2 POWER FROM SOLAR ENERGY 11

Photovoltaics 11

Water pumping 19

Refrigeration of vaccines 26

Lighting 29

3 HEAT FROM SOLAR ENERGY 33

Distillation 33

Water heating 37

Drying 43

4 POWER FROM THE WIND 48

Wind energy conversion 48

Water pumping 52

Wind generators 55

5 WATER POWER 58

Micro-hydro 58

Hydraulic ram pumps 68

The water current turbine 74

6 BIOMASS 77

End uses of biomass 77

Processing technologies 79

Charcoal 79

Briquetting 82

Producer gas 84

Biogas as a fuel 84

Heat conversion 89

Stoves 89

Industrial combustion 92

Power for conversion 94

Producer gas for power 94

Steam engines 96

Stirling engines 97

ANNEXE I FURTHER INFORMATION 98

ANNEXE II EQUIPMENT SUPPLIERS AND

MANUFACTURERS 102

ANNEXE III GLOSSARY 108
Drummond Hislop At the time of writing, Drummond Hislop was a development economist and director of Biomass Energy Services and Technology.
Macro-engineering Seawater in Unique Environments
Calling upon Neptune: Ocean Energies as "Renewables"
Charlier, Roger H.
2010
https://doi.org/10.1007/978-3-642-14779-1_27
[Citations: 0]
Assessment of Wind Energy Potential as a Power Generation Source in the Azraq South, Northeast Badia, Jordan
Al-Nhoud, Omar
Al-Smairan, Mohammad
Modern Mechanical Engineering, Vol. 05 (2015), Iss. 03 P.87
https://doi.org/10.4236/mme.2015.53008
[Citations: 4]
Renewable energy strategies for rural Africa: is a PV-led renewable energy strategy the right approach for providing modern energy to the rural poor of sub-Saharan Africa?
Karekezi, Stephen
Kithyoma, Waeni
Energy Policy, Vol. 30 (2002), Iss. 11-12 P.1071
https://doi.org/10.1016/S0301-4215(02)00059-9
[Citations: 146]