Book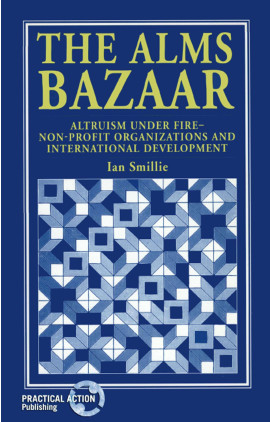 The Alms Bazaar
Altruism under fire - non-profit organizations and international development
Published: 1995
Pages: 304

eBook: 9781780446127
Paperback: 9781853393013
Written by an insider, this study of international development agencies ranges from Biafra to Rwanda, from administrative costs to participatory development, from the bright hopes of the 1960s to the implications of the latest Mexican financial crisis. The phenomenon of the transnational mega-charity is examined as are the threats to the independence of voluntary organizations from governments, UN agencies and from charities themselves. This is also a story about lessons of heroism and folly, of bungling and luck and failure - and of achievements that have improved the lives of millions.
ACRONYMS AND ABBREVIATIONS Vll
AN IRREVERENT GLOSSARY X
ACKNOWLEDGEMENTS xiii
INTRODUCTION 1
PART ONE: THE FLIGHT OF THE PHOENLX
I Doomsters and cornucopians 7
II Naming the rose: what is an NGO? 22
III Northern NGOs: the age of innocence 37
IV Southern NGOs 60
PART TWO: NGOs TODAY
V The pink elephant: empowerment and the status of women 81
VI Disasters: some came running 98
VII Mixed messages: NGOs and the Northern public 124
VIII Management, memory and money 147
PART THREE: NOW THE TRUMPET
LX Dependence and independence in the contracting era 167
X Partners 181
XI Act globally: the rise of the transnational NGO 197
XII Democracy, participation and the rights stuff 214
XIII Future conditional 238
NOTES 258
BIBLIOGRAPHY 277
INDEX 283

Ian Smillie
Ian Smilie has worked at Tufts and Tulane Universities and as a development consultant with many Canadian, American and European organizations. He served on a UN Security Council Expert Panel examining the relationship between diamonds and weapons in West Africa, and he helped develop the 48-government 'Kimberley Process,' a global certification system to halt the traffic in conflict diamonds.