Book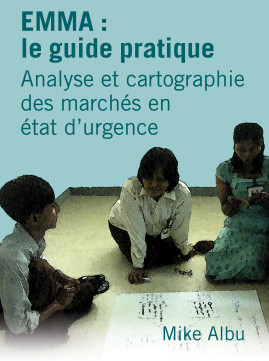 EMMA: le guide pratique
Analyse et cartographie des marchés en état d'urgence
Published: 2011
Pages: 272

eBook: 9781780440125
Paperback: 9781853397288
Markets are a crucial component of how people survive. Understanding how markets are disrupted in emergencies is critical to any analysis of hunger, and to food and livelihood security. The Emergency Market Mapping and Analysis Toolkit (EMMA) is a guidance manual to assist front-line staff to make rapid assessments of market systems in the first few weeks of a crisis. Its purpose is to improve early response planning so that resources are used effectively, and so that opportunities are not missed to bolster future recovery in the local economy. This toolkit can help prevent lasting damage to the livelihoods, jobs and businesses on which people's long-term security depends through practical steps to understand the important market aspects of an emergency situation, and communicate this knowledge promptly and effectively to decision-makers. Also available in French.
Prelims (Praise for the book, Contents, Boxes, Acknowledgements)

PART I: INTRODUCTION

1. The EMMA toolkit: introduction and overview

PART II: EMMA TOOLKIT

2. Essential preparation

3. Market selection

4. Preliminary analysis

5. Preparation for fieldwork

6. Fieldwork activities and interviews

7. Mapping the market system

8. Gap analysis

9. Market-system analysis

10. Response analysis

11. Communicating results

Back Matter (Bibliography, Glossary, Index)
Mike Albu
Mike Albu has worked and published as both a consultant and international NGO manager in the field of pro-poor market development for 10 years. He also has many years prior practical experience of community-based livelihoods and appropriate technology projects in Africa and south Asia. Mike now works for Practical Action.