Book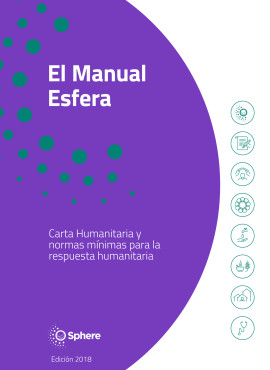 El Manual Esfera
Carta Humanitaria y normas minimas para la respuesta humanitaria
Series: Humanitarian Standards
Published: 2018
Pages: 454

eBook: 9781908176721
Paperback: 9781908176424
Multibuy 20: 9781908176820
El Manual Esfera presenta un enfoque basado en principios para abordar la calidad y la rendición de cuentas en las respuestas humanitarias. Traduce a la práctica la convicción fundamental de Esfera de que todas las personas afectadas por desastres o conflictos tienen derecho a una vida con dignidad y a recibir asistencia humanitaria.

La Carta Humanitaria es la piedra angular del Manual que, junto a los Principios de Protección y la Norma Humanitaria Esencial, establecen los fundamentos en que se basan todos los sectores de asistencia. Las normas técnicas establecen prioridades para dar una respuesta en cuatro sectores principales que salvan vidas: agua, saneamiento y promoción de la higiene; seguridad alimentaria y nutrición; alojamiento y asentamiento, y salud.

Las normas mínimas medibles describen lo que es necesario lograr en una respuesta humanitaria para que las personas sobrevivan y restablezcan sus vidas y sus medios de vida de una forma que respete su voz y promueva su dignidad. Las acciones clave, indicadores y notas de orientación ofrecen diversas maneras de aplicar estas normas en distintos contextos. Todos los capítulos están vinculados y se refuerzan entre sí.

La fuerza del Manual Esfera reside en su carácter universal y su capacidad para adaptarse a todos los contextos humanitarios. Goza de un amplio respaldo en el sector humanitario y, por ello, ofrece un lenguaje común para trabajar con todas las partes interesadas en aras de una mayor calidad y rendición de cuentas en los contextos humanitarios.
Prólogo

Agradecimientos

¿Qué es Esfera?

La Carta Humanitaria

Principios de Protección

Norma Humanitaria Esencial

Abastecimiento de Agua, Saneamiento y Promoción de la Higiene (WASH)

Seguridad Alimentaria y Nutrición

Alojamiento y Asentamiento

Salud

Anexos

Anexo 1: Fundamentos jurídicos de Esfera

Anexo 2: El Código de Conducta

Anexo 3: Abreviaciones y Acrónimos

Índice
Sphere Association
The Sphere Project was initiated in 1997 by a group of NGOs and the Red Cross and Red Crescent Movement to develop a set of universal minimum standards in core areas of humanitarian response. In 2017, the Sphere Project became independent as and is now the Sphere Association.
Modular Temporary Housing for Situations of Humanitarian Catastrophe
Pérez-Valcárcel, Juan
Muñiz, Santiago
Mosquera, Emilio
Freire-Tellado, Manuel
Aragón, Jorge
Corral, Alberto
Journal of Architectural Engineering, Vol. 27 (2021), Iss. 2
https://doi.org/10.1061/(ASCE)AE.1943-5568.0000471
[Citations: 0]
Add to favourites
---
eBook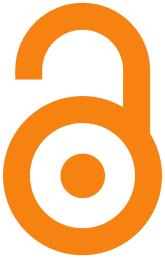 Read
Download book PDF
---
Paperback
£15.95
Add to basket
---
Multibuy 20
£160.00
Add to basket
---