Book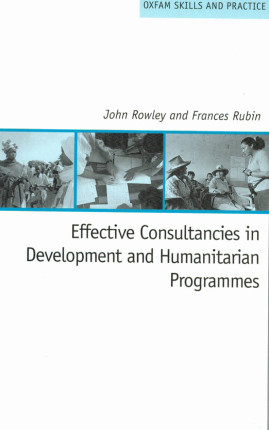 Effective Consultancies in Development and Humanitarian Programmes
Published: 2006
Pages: 112

eBook: 9780855987091
Paperback: 9780855985004
This guide to good consultancy practice is unusual in two respects: its focus is consultancy work in the international development sector; and it describes the process from the perspectives of both clients and consultants, helping each side to understand what the other does. Using detailed checklists, the authors explain the stages of a typical consultancy, paying close attention to the practical, ethical, financial, and legal aspects of the process. Drawing on their own extensive experience and a wide-ranging survey of international NGOs and freelance consultants, they discuss how to develop more effective working relationships with all the relevant stakeholders, including donors, partners, programme managers, local staff, and local communities. They also show how development agencies can manage particular consultancies in order to promote long-term learning and thus improve the general quality of their programmes. As both managers and freelance consultants,
Acknowledgements

Some Definitions

1 Introduction

2 Consultants, clients, and stakeholders

3 Approaches to consultancy

4 Stages of consultancy

5 Deciding on a consultancy

6 Planning a consultancy

7 Finding consultants

8 Assessing consultants

9 Costing a consultancy - and other financial matters

10 Contracts and other legal matters

11 Managing a consultancy: from preparation to feedback

12 Ethical concerns

13 Being a consultant

14 Checklists for managers

15 Conclusion

Annexes

1 Sample contract clauses

2 Example of a letter of agreement

3 Cancellation fees

4 Consultancy contract or staff contract?

5 Sample contents of a call for tenders

6 Fee-calculation tables

Annotated bibliography

Index
John Rowley
John Rowley is a consultant in international development with many years of experience training practitioners in participatory methods.
Frances Rubin
Frances Rubin has worked for national and international NGOs, bilateral and multilateral agencies, and commercial companies in the UK, Latin America, Africa, and Asia.