Book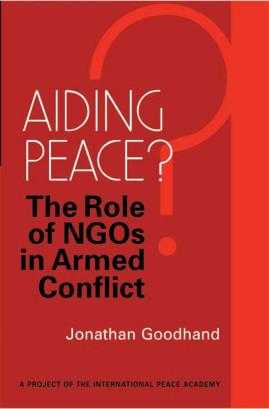 Aiding Peace?
The Role of NGOs in Armed Conflict
Published: 2006
Pages: 247

eBook: 9781780441467
Paperback: 9781853396328
While NGOs' role in advocacy and agendasetting is fairly widely accepted, their peacebuilding activities are more controversial and have come under increasing scrutiny—not least from the NGOs themselves. As the number of NGOs, and their role in conflict situations, has grown exponentially, they have found themselves increasingly strained to find an appropriate balance between competing demands for relief, development, human rights and peace work, and between their own roles and that of other international and national actors.
In this important study, which is firmly grounded in seven case studies, Goodhand ably situates the role of NGOs in peacebuilding within the dynamics of contemporary conflicts and the evolving complexities of international peacebuilding. His study promises to become a valuable resource for the Peacebuilding Commission and other practitioners in their interaction with civil society. It also stands to make a significant contribution to current debates about the appropriate role of external actors in peacebuilding and our collective understanding of what it genuinely takes to build peace.
Prelims (Tables, Foreword by Terje Rød-Larsen, Acknowledgements)

1. Introduction - Aiding Peace

2. Armed Conflict in Theory

3. Armed Conflict in Practice

4. Understanding responses to conflict: international intervention and aid

6. Armed Conflict and the International Political and Policy Landscape

7. NGO Programming and Capacities for Peacebuilding

8. Politics, policy and practice

Back Matter (Acronyms, Notes, Bibliography, Index)
Jonathan Goodhand
Jonathan Goodhand is a Lecturer in the Development Studies Dept. at the School of Oriental and African Studies, University of London specialising in the Political Economy of Development Aid and Conflict. He has previously worked for several NGOs in Afghanistan, Sri Lanka and central Asia and as an advisor for Oxfam, CARE and the Department for International Development of the UK government.