Book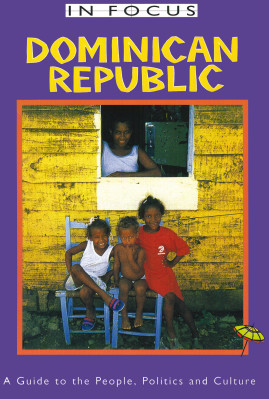 Dominican Republic In Focus
A Guide to the People, Politics and Culture
Series: Latin America In Focus
Published: 1999
Pages: 96

eBook: 9781909013131
Paperback: 9781899365258
This is a guide to one of the most popular tourist destinations in the Caribbean, the Dominican Republic, which has much more to offer than its idyllic beaches. The site of the first European settlement in the Americas, the country has a long and often turbulent history, marked by dictators, foreign invasions and popular uprisings. For almost two centuries the country has shared the island of Hispaniola with Haiti, a proximity which had led to friction and occasional conflict. Despite efforts to abandon dependency on sugar and to modernize the economy, the Dominican Republic still faces considerable poverty and social tensions. Migration, legal and illegal, provides a lifeline to many poor communities. Yet this often difficult past and present have created one of the most distinctive and vibrant cultures in the Caribbean, where 16th-century colonial architecture contrasts with modern office blocks, and where Spanish, African and American influences are apparent in music, food and art.
Prelims - Dominican Republic In Focus (Title Page, Copyright Information, Contents, Introduction)

1. Dominican Republic In Focus
Caribbean Land and Development Revisited
Land Disputes and Development Activity in the Dominican Republic
Macleod, Donald
2007
https://doi.org/10.1057/9780230605046_9
[Citations: 0]
Haitian-Dominican Counterpoint
Searching Out the Boundary, 1986–2003
Matibag, Eugenio
2003
https://doi.org/10.1057/9781403973801_8
[Citations: 0]
BURSTING THE BUBBLE: THE SOCIO-CULTURAL CONTEXT OF ECOTOURISM
Carrier, James G.
Macleod, Donald V.L.
Journal of the Royal Anthropological Institute, Vol. 11 (2005), Iss. 2 P.315
https://doi.org/10.1111/j.1467-9655.2005.00238.x
[Citations: 77]
'Child sex tourism': an anomalous form of movement?
Davidson, Julia O'Connell
Journal of Contemporary European Studies, Vol. 12 (2004), Iss. 1 P.31
https://doi.org/10.1080/1460846042000207123
[Citations: 17]
Haitian-Dominican Counterpoint
Introduction: Point Counterpoint
Matibag, Eugenio
2003
https://doi.org/10.1057/9781403973801_1
[Citations: 0]
Migration and Development: Whither the Dominican Republic and Haiti?
Martin, Philip
Midgley, Elizabeth
Teitelbaum, Michael S.
International Migration Review, Vol. 36 (2002), Iss. 2 P.570
https://doi.org/10.1111/j.1747-7379.2002.tb00093.x
[Citations: 14]
Sovereignty and Social Justice: The 'Haitian Problem' in the Dominican Republic
Matibag, Eugenio
Downing-Matibag, Teresa
Caribbean Quarterly, Vol. 57 (2011), Iss. 2 P.92
https://doi.org/10.1080/00086495.2011.11672404
[Citations: 3]