Book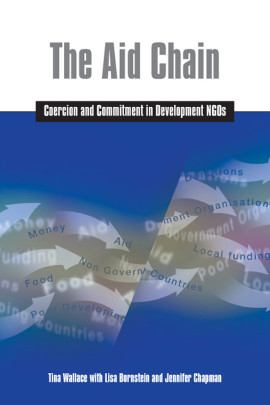 The Aid Chain explores the role of funding conditions in shaping co-operation and resistance as aid moves from donors, to NGOs, to local communities. Significant proportions of aid flow through the non-governmental sector but questions are increasingly being asked about the role of NGOs and whether they can deliver on their ambitious claims. This study examines whether the existing aid processes widely used by donors and NGOs are effective in tackling poverty and exclusion. Findings from fieldwork in Uganda, South Africa and the UK are used to show how the fast changing aid sector has, in the context of a dynamic policy environment, encouraged the mainstreaming of a managerial approach that does not admit of any analysis of power relations or cultural diversity. This increasing definition of the roles of NGOs as essentially technical, limits the extent of the very development that the organizations were initially established to promote.
Section Title
Page
Action
Price

0 The Aid Chain

1

1 The Aid Chain

19

2 The Aid Chain

37

3 The Aid Chain

49

4 The Aid Chain

67

5 The Aid Chain

91

6 The Aid Chain

109

7 The Aid Chain

127

8 The Aid Chain

147

9 The Aid Chain

165

10 The Aid Chain

179

11 The Aid Chain

197
Tina Wallace
Tina Wallace has worked in development, as an academic, practitioner and activist for over 35 years and has conducted reviews with the major NGOs including Oxfam, ActionAid, WaterAid, Amnesty International, as well as IIED and the UK's Department for International Development.
Lisa Bornstein
Lisa Bornstein worked for many years at the University of Kwa Zulu Natal, where she was head of the SA research, and she is now teaching and researching at the University of McGill in Canada. She specialises in planning as well as development issues.
Jennifer Chapman
Jennifer Chapman is currently working freelance, after three years heading an action research programme for ActionAid on the evaluation of advocacy work by development NGOs. She has extensive research and practical experience with NGOs and is currently developing a manual on understanding and learning from advocacy and policy work.