Book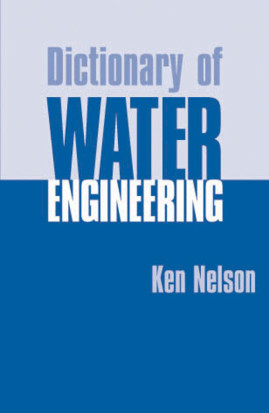 Dictionary of Water Engineering
Published: 2005
Pages: 384

eBook: 9781780444765
Hardback: 9781853394904
The Dictionary of Water Engineering provides an essential, up-to-date and economically priced source of information on all aspects of water engineering and technology. Emphasis is placed on the needs of poorer communities and on the importance of environmental sustainability. The entries cover the many facets of water engineering and technology including: water supplies for urban and rural communities, wastewater systems, water resources, hydrology, irrigation, river improvement, drainage, erosion, groundwater exploration, hydrography, flood protection, hydraulic machines, dams and water power. The dictionary is designed to meet the needs of engineers, technicians and students throughout the world and all those with a serious interest in water. It is a practical handbook of down-to-earth use for all those involved in sustainable development programmes from planners to field workers.
Surface Water
Lakes and Other Surface Water Manifestations
Bowen, Robert
1982
https://doi.org/10.1007/978-1-4613-3918-2_5
[Citations: 0]
Civil Engineering: A Reference Guide
Balachandran, S.
Reference Services Review, Vol. 5 (1977), Iss. 2 P.21
https://doi.org/10.1108/eb048609
[Citations: 0]
International Classification and Codification of Watersheds and River Basins
Khan, M. Q. I.
Venkataratnam, L.
Rao, B. R. M.
Rao, D. P.
Subrahmanyam, C.
Journal of Water Resources Planning and Management, Vol. 127 (2001), Iss. 5 P.306
https://doi.org/10.1061/(ASCE)0733-9496(2001)127:5(306)
[Citations: 1]