Book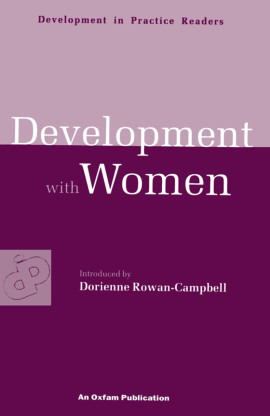 Development practitioners and development thinkers and academics have tried to make women matter in development. However, women-focused approaches have often addressed women's needs outside the wider social contexts in which they live and have been as damaging to women's interests as earlier gender-blind efforts that ignored women's specific concerns altogether. These papers taken from the journal Development in Practice cover topics as diverse as mainstreaming versus specialization, methodologies for introducing gender analysis into planning and evaluation, limitations of gender training and how institutional policies to promote gender enquiry can be tacitly undermined by patriarchal interests. This book is one of a series which sets out to promote debate on themes of current concern in development.
Targeting women on transforming institutions? Policy lessons from NGO anti-poverty efforts, Naila Kabeer;

Soup kitchens, women and social policy: studies from Peru, Luiba Kogan;

Dealing with hidden issues: trafficked women in Nepal, Meena Poudel and Anita Shrestha;

The Zimbabwe Women's Resource Centre and Network, Hope Chigudu;

Participatory development: an approach sensitive to class and gender, Dan Connell;

Women in the informal sector: the contribution of education and training, Fiona Leach;

The evaporation of gender policies in the patriarchal cooking pot, Sara Hlupelike Longwe.
Dorienne Rowan-Campbell
Based out of both Canada and Jamaica, Dorienne Rowan-Campbell works as an independent development consultant. She is a qualified organic crop inspector, Board Member of the Jamaica Organic Agriculture Movement and interim Vice Chair of the fledgling Caribbean Regional Organic Agriculture Movement (CROAM).
Gendered Risk Engagement: Challenging the Embedded Vulnerability, Social Norms and Power Relations in Conventional Australian Bushfire Education
ERIKSEN, CHRISTINE
Geographical Research, Vol. 52 (2014), Iss. 1 P.23
https://doi.org/10.1111/1745-5871.12046
[Citations: 21]
Women Entrepreneurship in India: Evidence from Economic Censuses
Samantroy, Ellina
Tomar, J. S.
Social Change, Vol. 48 (2018), Iss. 2 P.188
https://doi.org/10.1177/0049085718768898
[Citations: 7]