Book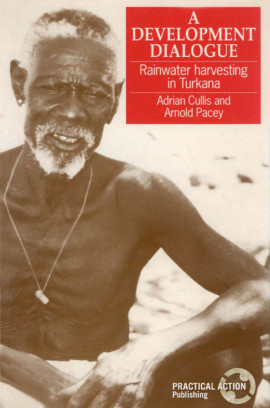 Development Dialogue
Published: 1992
Pages: 144

eBook: 9781780442006
Paperback: 9781853391040
Hardback: 9781853391163
The African Sahel has one of the poorest regional economies in the world. Within it pastoralists are particularly vulnerable because development policy has often failed to address local concerns. By contrast, the Turkana rainwater harvesting project described in this book stands out in its simplicity - a basic water conservation technology based on priorities identified by local people, adapted by them, and in which local pastoralists and gardeners take full responsibility for the control and administration of their work. The authors illustrate the project's progress through a series of descriptive scenes which discuss the successes and learning experiences. The whole process, covering the years 1984 to 1990, was one of continuous dialogue between western technological principles and experience, and local observation and knowledge - resulting in a successful learning process promising to empower local people to better cope with economic pressures and the harsh environment. Written and designed for development workers, farmers and agricultural fieldworkers, researchers and extensionists, as well as project planners and advisors, this companion to Rainwater Harvesting has lessons in participatory techniques for all those engaged in projects involving development agencies and local people.
ACKNOWLEDGEMENTS vi

PREFACE vii

ABBREVIATIONS AND ACRONYMS ix

GLOSSARY X

1 The context of a famine, 1979-84 1

2 History and development to 1984 15

3 The pastoral economy and Turkana institutions 36

4 Gardens and animal draught, 1985 56

5 New locations and evolving management, 1986-7 77

6 The start of self-management, 1987-90 96

7 Conclusion: Dialogue-based development 115

REFERENCES 122
Adrian Cullis
Adrian Cullis is Team Leader at the Food Security Unit at Save the Children US - Ethiopia
Arnold Pacey
Arnold Pacey was lecturer at the University of Manchester, Institute of Science and Technology, 1963-72; editor for Oxfam, 1973-74; Associate Lecturer at the Open University, Yorkshire Region, Leeds, 1976-2000; and retired in 2001.
Livestock Raiding Among the Pastoral Turkana of Kenya:Redistribution, Predation and the Links to Famine
Hendrickson, Dylan
Mearns, Robin
Armon, Jeremy
IDS Bulletin, Vol. 27 (1996), Iss. 3 P.17
https://doi.org/10.1111/j.1759-5436.1996.mp27003003.x
[Citations: 32]
Conserving Biodiversity in Arid Regions
Agriculture and Biodiversity Conservation in Africa Through Indigenous Knowledge
Dakoh, M. B. K.
2003
https://doi.org/10.1007/978-1-4615-0375-0_6
[Citations: 0]
Supporting Pastoralist Livelihoods in Eastern Africa Through Peace Building
Lind, Jeremy
Development, Vol. 49 (2006), Iss. 3 P.111
https://doi.org/10.1057/palgrave.development.1100279
[Citations: 1]
Rainwater Harvesting for Agriculture in the Dry Areas
Planning and design of water harvesting systems
2012
https://doi.org/10.1201/b12351-12
[Citations: 0]
Rainfed Farming Systems
Rainfed Farming Systems in the Loess Plateau of China
Huang, Gaobao
Chen, Wen
Li, Fengrui
2011
https://doi.org/10.1007/978-1-4020-9132-2_23
[Citations: 6]
A rapid health impact assessment of the Turkwel Gorge hydroelectric dam and proposed irrigation project
Renshaw, M
Birley, M H
Sang, D K
Silver, J B
Impact Assessment and Project Appraisal, Vol. 16 (1998), Iss. 3 P.215
https://doi.org/10.1080/14615517.1998.10590210
[Citations: 4]
What is the limit of up-scaling rainwater harvesting in a river basin?
Ngigi, Stephen N
Physics and Chemistry of the Earth, Parts A/B/C, Vol. 28 (2003), Iss. 20-27 P.943
https://doi.org/10.1016/j.pce.2003.08.015
[Citations: 78]