Book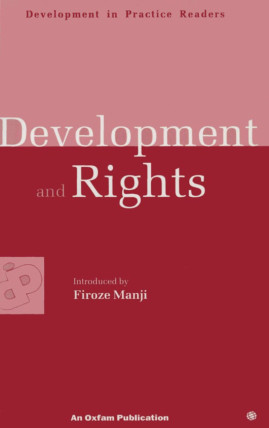 The fiftieth anniversary of the 1948 Universal Declaration of Human Rights prompts a re-examination of the links between 'development' and the range of economic, social, political and cultural rights enshrined within it. Chronic poverty is a flagrant denial of what the international community once hailed as the basic rights and fundamental freedoms on which our humanity and security must rest. The papers in this collection consider, among other entitlements, the rights to food, adequate housing, safe employment, protection from sexual assault and popular involvement in political processes which shape the lives of the poorest communities.
* Preface

Deborah Eade

* The depoliticisation of poverty

Firoze Manji

* The humanitarian responsibilities of the UN Security Council: ensuring the security of the people

Juan Somavia

* African rural labour and the World Bank: an alternative perspective

Deborah Fahy Bryceson and John Howe

* Empowerment and survival:humanitarian work in civil conflict

Martha Thompson

* The global struggle for the right to a place to live

Miloon Kothari

* Agrarian reform: a continuing imperative or an anachronism?

Cristina Liamzon

* The ethics of immigration controls: issues for development NGOs

Andy Storey

* The right to protection from sexual assault: the Indian anti-rape campaign

Geetanjali Gangoli

* Guatemala:uncovering the past, recovering the future

Elizabeth Lira

* Strengthening unions: the case of irrigated agriculture in the Brazilian north-east

Didier Bloch

* All rights guaranteed-all actors accountable: poverty is a violation of human rights

Grahame Russell

* Collective memory and the process of reconciliation and reconstruction

Wiseman Chirwa

* Devastation by leather tanneries in Tamil Nadu

John Paul Baskar

* Annotated bibliography

* Addresses of publishers and other organisations
Firoze Manji
Firoze Manji, a Kenyan with more than 30 years experience in international development, health and human rights, is Director of Fahamu, an organisation committed to using information and communication technologies to support the struggle for social justice in Africa. He is editor of Pambazuka News, a weekly electronic newsletter on social justice in Africa.
The Emperor's New Clothes: A moral tale for development experts?
Hintjens, Helen
Development in Practice, Vol. 9 (1999), Iss. 4 P.382
https://doi.org/10.1080/09614529952873
[Citations: 17]
Why Rights, Why Now? Reflections on the Rise of Rights in International Development Discourse
Cornwall, Andrea
Nyamu-Musembi, Celestine
IDS Bulletin, Vol. 36 (2005), Iss. 1 P.9
https://doi.org/10.1111/j.1759-5436.2005.tb00174.x
[Citations: 17]
The Potential of the Human Rights-Based Approach for the Evolution of the United Nations as a System
Clarke, Alisa
Human Rights Review, Vol. 13 (2012), Iss. 2 P.225
https://doi.org/10.1007/s12142-011-0212-0
[Citations: 1]
Politicization as a strategy for recognition and enforcement of human rights in Kenya
Ruteere, Mutuma
Human Rights Review, Vol. 7 (2006), Iss. 2 P.6
https://doi.org/10.1007/s12142-006-1026-3
[Citations: 0]