Book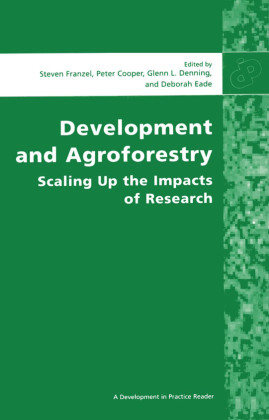 Agriculturalists have been benefiting from the range of products and services that trees can supply for thousands of years. Through the integration of trees into agricultural landscapes, farmers and land users at all levels can enjoy diversified production and a range of social, economic and environmental benefits. Agroforestry is the scientific application of this widespread body of knowledge. This stimulating collection explores the experiences of researchers and small-scale farmers undertaking agroforestry development projects around the globe and addresses the question of how local small-scale development successes can be 'scaled up' to create wider, long-term benefits. Each of the contributions offers insights into important wider debates. The relationship between theory and practice, the proper role of research in development, constraints on 'scaling up' local successes, the nature of human motivation for risk-taking and learning, the ways in which individuals and communities respond to technical innovation are all critically explored here. Contributors stress the importance of experimenting with a range of possible agroforestry techniques and approaches, in conjunction with the farming communities that will adopt or reject these methods over time.
Preface

Deborah Eade

Realising the potential of agroforestry: integrating research and development to achieve greater impact

Glenn L. Denning

Participatory design of agroforestry systems: developing farmer participatory research methods in Mexico

Jeremy Haggar, Alejandro Ayala, Blanca Diaz, and Carlos Uc Reyes

Participatory domestication of agroforestry trees: an example from the Peruvian Amazon

John C. Weber, Carmen Sotelo Montes, Hector Vidaurre, Ian K. Dawson, and Anthony J. Simons

Facilitating the wider use of agroforestry for development in southern Africa

Andreas Bohringer

Scaling up participatory agroforestry extension in Kenya: from pilot projects to extension policy

T.M. Anyonge, Christine Holding, K. K. Kareko, and J. W. Kimani

More effective natural resource management through democratically elected, decentralised government structures in Uganda

Thomas Raussen, Geoffrey Ebong, and Jimmy Musiime

On-farm testing and dissemination of agroforestry among slash-and-burn farmers in Nagaland, India

Merle D. Faminow, K. K. Klein, and Project Operations Unit

Scaling up the use of fodder shrubs in central Kenya

Charles Wambugu, Steven Franzel, Paul Tuwei, and George Karanja

The Landcare experience in the Philippines: technical and institutional innovations for conservation farming

Agustin R. Mercado, Jr., Marcelino Patindol, and Dennis P. Garrity

Scaling up adoption and impact of agroforestry technologies: experiences from western Kenya

Qureish Noordin, Amadou Niang, Bashir Jama, andMary Nyasimi

Scaling up the benefits of agroforestry research: lessons learned and research challenges

Steven Franzel, Peter Cooper, and Glenn L. Denning

Resources

Books

Journals

Organisations

Addresses of publishers

Index
Steven Franzel Steven Franzel is a principal agricultural economist with the World Agroforestry Center and has worked for the Center for the past 18 years. He currently leads a global research project on marketing tree products for smallholders. His main research interests include smallholder farming systems, natural resources management, adoption and dissemination of innovations, policy analysis, participatory research, fodder trees and impact assessment.
Deborah Eade Deborah Eade was Editor-in-Chief of Development in Practice from 1991 to 2010, prior to which she worked for 10 years in Latin America. She is now an independent writer on development and humanitarian issues, based near Geneva.
Factors influencing scaling up of agroforestry-based spatial land-use integration for soil fertility management in Arsamma Watershed, Southwestern Ethiopian Highlands
Guteta, Dereje
Abegaz, Assefa
Journal of Environmental Planning and Management, Vol. 59 (2016), Iss. 10 P.1795
https://doi.org/10.1080/09640568.2015.1090960
[Citations: 8]
New Vistas in Agroforestry
Agroforestry and the achievement of the Millennium Development Goals
Garrity, D. P.
2004
https://doi.org/10.1007/978-94-017-2424-1_1
[Citations: 13]
Agroforestry and the achievement of the Millennium Development Goals
Garrity, D.P.
Agroforestry Systems, Vol. 61-62 (2004), Iss. 1-3 P.5
https://doi.org/10.1023/B:AGFO.0000028986.37502.7c
[Citations: 100]
Adoption levels of agroforestry tree types and practices by smallholders in the semi-arid areas of Kenya: A case of Makueni County
Maluki, J M
Kimiti, J M
Nguluu, S
Musyoki, J K
Journal of Agricultural Extension and Rural Development, Vol. 8 (2016), Iss. 9 P.187
https://doi.org/10.5897/JAERD2015.0741
[Citations: 1]