Book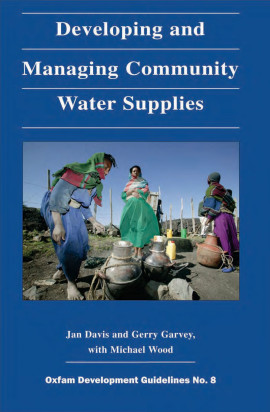 Based on direct field experience and using short case studies, this book discusses the issues and stages in the development of water supplies, from the initiation of a programme through to the community management of a supply system. The importance of involving all the members of a community in decisions about water provision is emphasised, as is the need to incorporate hygiene education from the outset.
* Preface

* Acknowledgements

* Introduction

* Part 1: Issues in community water supply

1. Water and environmental health

1.1 Why develop water supplies?

1.2 Sanitation

1.3 Hygiene behaviour

1.4 Environmental factors;

1.5 Aims and benefits

1.6 The distribution of benefits;

2. Working together

2.1 Communities and agencies

2.2 Groups and individuals;

2.3 Traditions; beliefs; and attitudes

* Part 2: The programme cycle

3. Planning a programme

3.1 The staged approach to planning

3.2 Gathering information

3.3 Categories of information

3.4 Technology and design

4. Preparing a proposal

4.1 Reviewing the information

4.2 The written proposal

4.3 Guidelines and agreements

5. Implementing projects

5.1 The integration of components

5.2 Hygiene and education

5.3 Sanitation

5.4 Constructing supervision

5.5 Monitoring and reporting

5.6 Managing staff and vehicles

6. Managing community water supplies

6.1 Management options

6.2 Community management

6.3 Financing operation and maintenance

7. Evaluating for planning

7.1 Internal evaluations

7.2 External and joint evaluations;

* Appendix 1 Microbiological water quality

* Appendix 2 Sources of further information

* Index
Jan Davis
Jan Davis is a chartered engineer with experience in both emergency relief and long-term development. He has worked for Oxfam as an emergency water engineer and is currently a Senior Training Officer responsible for delivering RedR's training programme.
Gerry Garvey
Gerry Garvey managed and advised on water programmes for Oxfam in Ethiopia. He has also worked for Oxfam in Sudan and Somalia
Michael Wood
Michael Wood worked for the Canadian International Development Agency as an adviser on water programmes in Ghana and Ethiopia. He also worked in Malawi
Field Guide to Environmental Engineering for Development Workers
Participatory Approaches and Community Management in Engineering Projects
2009
https://doi.org/10.1061/9780784409855.ch03
[Citations: 0]
The impact of water scarcity on environmental health in selected residential areas in Bulawayo City, Zimbabwe
Nyemba, Anesu
Manzungu, Emmanuel
Masango, Sijabuliso
Musasiwa, Simon
Physics and Chemistry of the Earth, Parts A/B/C, Vol. 35 (2010), Iss. 13-14 P.823
https://doi.org/10.1016/j.pce.2010.07.028
[Citations: 6]
TOPLUMSAL CİNSİYET EŞİTSİZLİĞİ BAĞLAMINDA KADIN YOKSULLUĞU VE SÜRDÜRÜLEBİLİR KALKINMA: TÜRKİYE ÖLÇEĞİNDE BİR İNCELEME
TOKGÖZ GÜNEŞ, Sevgi
BİNBOĞA, Gül
(2021)
https://doi.org/10.16953/deusosbil.1028748
[Citations: 0]