Book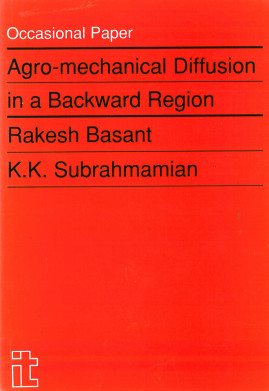 Agro-mechanical Diffusion in a Backward Region
Published: 1990
Pages: 100

eBook: 9781780441634
Paperback: 9781853390234
This exploration of the conditions which characterize the process of a general application of agro-mechanical technology is illustrated through a detailed study of the use of a new agricultural tool in rural India.
SECTION 1 Introduction 1

Raising the water 1

Distributing the water 2

Principle of operation 2

SECTION 2 Tools and Materials 5

Tools 5

Summary of materials 5

Materials description 6

SECTION 3 Making the Pump 10

The pipe 10

Cutting the tyre and washers 10

Fitting the washers 11

Making the handles 13

Making the pulley 14

Making the pipe-stand and rope-guide 17

SECTION 4 Assembling the Pump 19

The site 19

The poles 19

Mounting the pulley and axle 19

Mounting the pipe 19

Fitting the drum 22

Operation 22

Maintenance 23

SECTION 5 Pump in a Vertical Well 24

Installation 24

Well protection 25

SECTION 6 Cost 27
Rakesh Basant
Rakesh Basant has worked as a consultant to the World Bank, Intermediate Technology Development Group, U.K. and the United Nations University Institute of New Technologies, Maastricht, The Netherlands. Current research relates to industrial policy and technological change.
A sub-sector approach to cost-benefit analysis small-scale sisal processing in Tanzania
Brenters, John
Romijn, Henny
International Journal of Technology Management and Sustainable Development, Vol. 2 (2003), Iss. 2 P.117
https://doi.org/10.1386/ijtm.2.2.117/0
[Citations: 1]